Supercharge Your Rip Fence
Smart base supports a host of essential accessories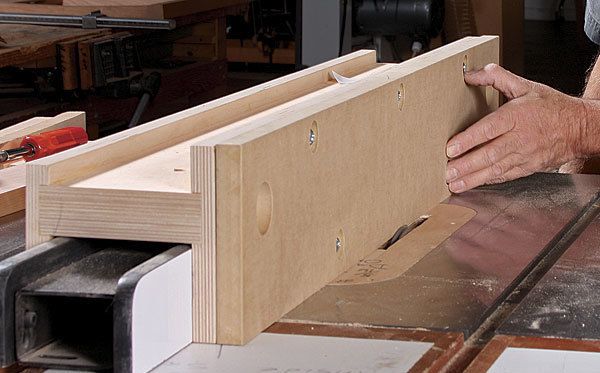 Synopsis: When Bob Van Dyke needed an auxiliary rip fence that he could easily attach and remove without damaging the tablesaw's main fence or sacrificing accuracy, he came up with this supercharged base, which is both practical and versatile. The base is made from 3⁄4-in. Baltic-birch plywood, fastened into an H-shape that straddles the saw's rip fence. A pair of toggle clamps applies pressure to the back of the base, drawing the front tightly into place. After the base is built, it's a simple matter to equip it with the add-on fences you need for tasks such as cutting rabbets, tenons, raised panels, and other workpieces.
Your tablesaw's rip fence is an integral part of the tool. It performs the basic task of guiding the workpiece parallel to the blade. without it, you can't rip wood safely or accurately.
But that's just the beginning of its usefulness. It is also common practice to clamp any number of jigs and auxiliary fences to the rip fence for specific jobs like cutting a rabbet in the edge of a board or a bevel on a raised-panel door. The problem with this is the clamping, and the low height of the fence. Put the clamps low and they hinder the workpiece sliding by; too high, and the extra fence won't stay plumb.
I decided it was time to make something better, so I borrowed an idea from a special fence I had made years ago. what I needed was an auxiliary fence that I could easily attach and remove without damaging the main fence or sacrificing accuracy. I wanted to do it without putting clamps in the way of the work, and I wanted to make it easy to attach a variety of useful jigs.
No one sets up shop just to make jigs, but I think you'll find it's worth the time to build the base and the add-ons I describe here. You will probably find even more uses as you put the system to work.
In terms of usefulness, this auxiliary fence base gets the prize. By adding special-purpose fences, common tasks such as cutting rabbets and tenons and panel-raising are all greatly simplified. The base is made from 3 ⁄4-in. Baltic-birch plywood, fastened into an H-shape that straddles the saw's rip fence. A pair of toggle clamps applies pressure to the back of the base, drawing the front tightly into place. The base doesn't need to fit the width of your rip fence precisely because the clamps pull it into position.
Start by creating the bridge from two lengths of the plywood. Face-glue and screw or nail the pieces together and then rip the bridge to width. Make sure the long edges are parallel: They will be glued into dadoes in the backs of the two uprights to form the H.
Cut the dadoes in the uprights using a 3⁄4-in. dado cutter at the tablesaw. Take multiple passes to sneak up on the fit.
For the full article, download the PDF below.
View PDF