Groove Center Simplifies Lock Miter Joint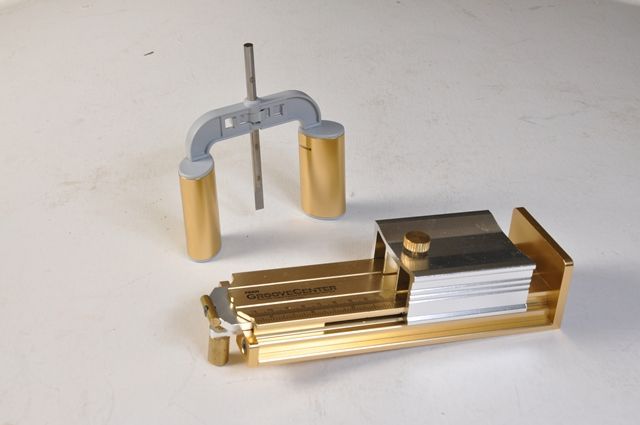 Setting up router lock-miter bits can be a frustrating affair with lots of trial and error and wasted lumber. Last year in Fine Woodworking (issue 218) an article was included that features a method of setting lock-miters using a height guage that is accurate but requires a few calculations. There is an easier way.
Valfor Tools (Prazi USA distributor) developed a tool for centering bits precisely in the edge of stock for accurately centered grooving and mortising. The jig uses a geared sliding carriage that butts up against the project lumber automatically setting a pin that drops into the router collet and provides the correct offset between the router fence and bit. The collet pin plate is adjustable and spacing the pin plate a set distance from the zero stop allows an offset that will correctly locate a lock-miter bit the precise exposure from the face of the fence needed for an accurate fitting joint. The 2-Axis Gauge comes into play by measuring the distance from the fence to the tip of the center wing of the cutter. Rotate the Gauge upright to locate the precise height the bit needs to be for accurate centering in both dimesions from the fence. The result is a few minute setup that produces a tight fitting miter joint.
Lock-miter bits are avialable in a variety of sizes and each manufacturer has slightly different profiles so Prazi includes a list of available bits along with the "magic number" for precisely offsetting the collet pin.
Check out Valfortools.com or Praziusa.com for more information about both tools. The Groove Center is available for about 150 bucks and the 2-Axis Depth Guage runs another 50 bucks.
 Groove Center (front) and 2-Axis Depth Gauge (back)
Adjusting collet pin plate to correct offset for lock-miter bit.
Sliding carriage locks against stock guaranteeing accurate location of collet pin for thickness of stock; no measuring needed.
The collet pin drops into place providing an accurate stop for setting the router fence. I have one side of the fence pulled away so the collet pin is visible.
2-Axis Depth Gauge is set to the middle wing of the lock-miter bit. The rotating legs make it easy to set the stylus accurately to the bit.
Rotate the 2-Axis Guage to vertical and raise the router bit until the center of the wing matches the tip of the stylus.
The result of accurate setup. It only takes a few minutes to accomplish results like this.