An unexpected family reunion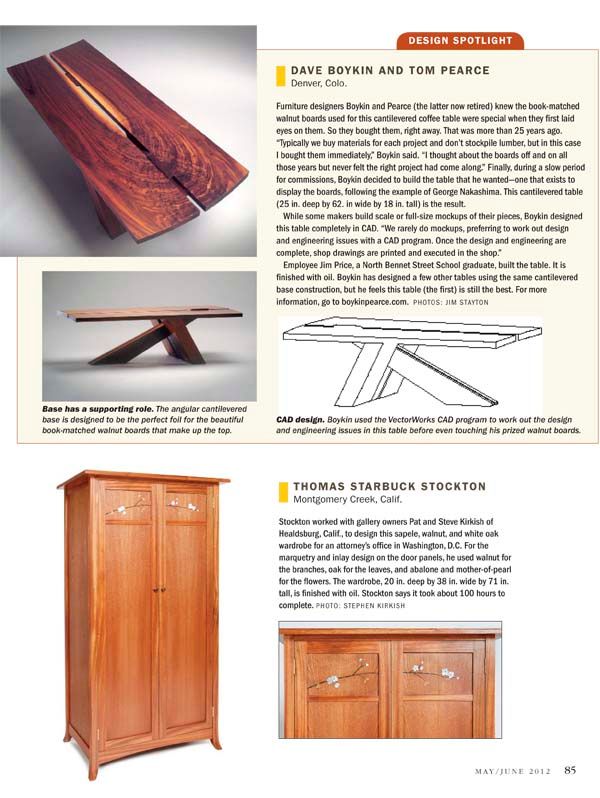 We get a lot of submissions here at the magazine from woodworkers who would like their furniture to appear in the Readers Gallery. Before a piece finally makes it into the gallery, it goes through several rounds of review from a panel of editors (who are also woodworkers) and sometimes even a meeting where disagreeing panel members argue about what gets in and what doesn't. I won't go into the gory details, but it's a relatively exhaustive process.
So by the time a piece is approved for the gallery, it's been around the horn a few times. Then, it waits to be chosen to fit into the magazine, and that process entails finding the right pieces that look good together on each magazine page. Sometimes, it takes as long as a year from the time we get a submission to actually get it into the magazine.
I've been editing the gallery for a few months now, so I consider myself relatively new to this process. That's why I was a little nervous when I got a phone call from Dave Boykin, whose table was featured in the May/June issue that recently hit the newsstands. "Uh, oh," I thought. "What did I do wrong?"
My fears worsened when I heard his first words: "I am totally in SHOCK."
Holy cow. I don't usually make big mistakes (at least at work). What the HECK did I do wrong?
"I looked at the page and I couldn't believe what I'd seen," David said.
Go on, I urged.
"You see the piece below mine by Thomas Starbuck Stockton? He's my cousin. How did you guys know that?"
What a relief. And what a surprise!
We had no idea the two woodworkers were cousins. It was just a crazy coincidence, made even eerier by the fact that Tom Stockton's armoire had been held twice in the past two issues because we ran out of room. Kelly Dunton, who designs the gallery pages, simply thought the two pieces looked good together. The relationship between the two makers? We knew nothing about it.
So I asked Dave for more info. "Tom Stockton is my cousin, son of my mom's sister. Growing up, we often were together during the summer months on our grandparents' ranch near Pescadero, Calif. Our family certainly did not expect it, but we both found our way, through our own separate experiences, to furniture. So odd, and special, to find us together on the same page!"
We decided not to tell Tom until the issue came out, so he would be as surprised as Dave when he saw it.
How did this happen? Were the woodworking gods looking down on Kelly when he chose the pieces for that page? Was there something about the two pieces that complemented each other that we sensed but didn't see? Or was it just a coincidence?
I'm going with coincidence. But still … it's crazy.
Here is page 85 of FWW #226, showing the cousins' furniture.
Dave Boykin. To see more of his furniture, go to his website.
Tom Stockton. To see more of his furniture, go to his website.
Here's a better view of Dave Boykin's table, as featured in FWW.
Here's a better view of Tom Stockton's armoire, as featured in FWW.