Inspiration from Arizona woodworkers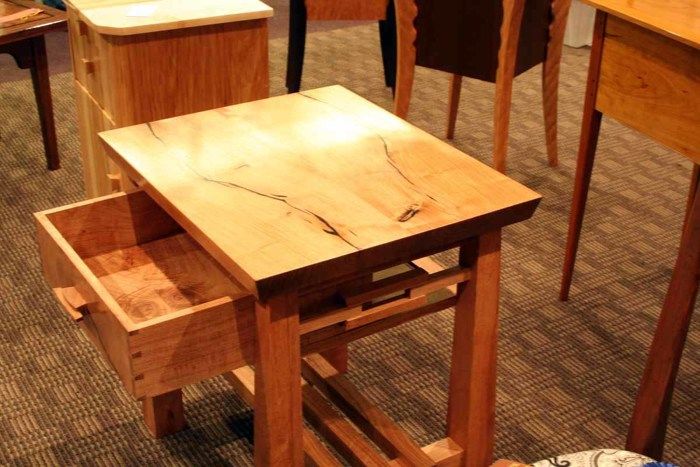 This year the Arizona Association of Fine Woodworkers invited FWW down to judge their annual Excellence in Wooodworking exhibition and sale in Mesa, just outside Phoenix. I was only too happy to attend, hand out a FWW prize package, and make some connections, since we don't have any authors in Arizona at the moment and don't normally see a lot of work from the area.
Woodworking is alive and well in the desert Southwest, and I saw dozens of great pieces at the show. I was on a panel or 6 or 7 judges, but we had a pretty easy time coming to consensus on all the prizes. You can see a few of them here, plus a couple of my personal faves. Turning, modelmaking, toymaking, scrollwork were definitely in fuller effect here than other shows I've attended.
Even more popular among the largely retired populace is woodcarving. The Excellence in Woodworking show shared space in the Mesa Convention Center with the three-times-larger 23rd annual Desert Woodcarving Show and Sale of the Arizona Wood Carvers Association and the Grand Canyon State Wood Carvers. It was very well-attended, with both carving supplies for the craftsmen and dozens of booth full of carved items on ale to the public.
By the way, I shot an article while I was in Arizona, on segmented turning, which is coming up in issue #229 this fall, and discovered a massive community shop for retirees northwest of Phoenix.
Mike Berkshire took first prize in the furniture category with this Asian-inspired side table in mesquite. I like how you can see through the open sides when you open the drawer.
Bob Simmons took second prize in furniture with his Welsh Stick Chair, a rustic version of a Windsor, historically made in the woods by "bodgers."
The chair is actually quite comfy, as Simmons happily demonstrates.
Peter Schultheiss won second place overall and the People's Choice with this amazing segmented urn. He used over 3,000 pieces of curly maple and Gabon ebony in the vessel.
Schultheiss brought along one of his tiniest turnings, just for fun.
Schultheiss also took the Best in Show award, for this small but exquisite segmented bowl, made to look like a basket. It includes 294 pieces of mahogany, wenge, and maple.
Another perfect little piece was the Albatross DIII, which took top honors in the Toys and Models category for its maker, Mark Jansen.
My kids would love this puzzle bowl by Jill Walterbach. What an fantastic idea, a bowlful of puzzles.