The Wired Workbench
Readers help us design the perfect power-tool workstation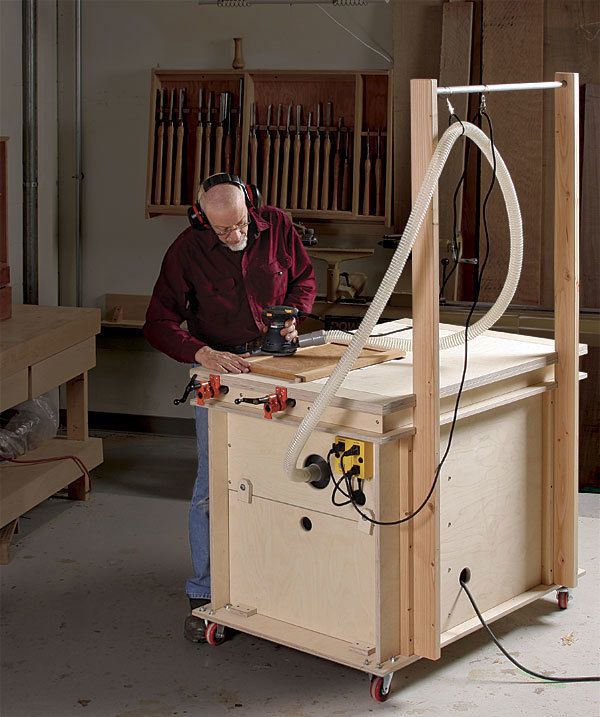 Synopsis: When the editors of FWW decided to build a bench designed for power tools, they had to throw out much of what they'd always felt a typical workbench should be. This is not a bench designed for handplaning, but for routing, drilling, sanding, and other power-tool techniques. So it has a built-in source of electricity and dust collection, it's taller than traditional benches, and it's wider. The front and tail vises are replaced by a simple but effective clamping system; the benchdogs have softer heads that won't dent workpieces; and locking casters underneath the bench make it mobile.
---
In a modern shop, a lot of work gets done with power tools such as routers, biscuit joiners, and randomorbit sanders. But most of us use them on benches designed around handplaning, which means everything from the height to the mass to the vises and benchdogs is geared toward hand-tool use. So the editors at Fine Woodworking decided to build a bench designed for power tools. They posted a blog on Finewoodworking.com, asking readers what they thought a "wired workbench" should be. A lot of great suggestions came in, and being a veteran of the FWW shop and an inveterate inventor (see my "NewFangled workbench," FWW #139), I was given the task of distilling readers' ideas into a user-friendly whole.
Power tools need electricity to run and they make dust by the fistful. So most people agreed that the first thing this bench needed was a built-in source of electricity and dust collection. I kept things simple by attaching a commercially available automated vacuum outlet, the iVAC switch box, that turns on the dust collection when you power up the tool. And I made room in the base for both a shop vacuum and an Oneida Dust Deputy, a miniature cyclone that has proven its value trapping the fine dust (and all of the chips) before it gets to the vacuum and clogs the filter. This wired workbench also is taller (38 in. total) than traditional benches, moving the tool and the workpiece up to a height where you have better vision and control. It's wider, too, but not as long. I got rid of the traditional front and tail vises, opting for a simple but effective clamping system made from two pipe clamps. The benchdogs have soft heads that hold workpieces firmly, but won't dent or mar them. And there are locking casters underneath to make the bench mobile.
Finally, the wired workbench is much easier to make than a big, heavy traditional bench. Because it won't take the forces a hand-tool bench does, the entire bench is made from plywood. And there is no complicated joinery, just butt joints held together by screws. Where they show, I've used stainless-steel deck screws and finish washers for a clean, modern look. If you already have a heavy hand-tool workbench, this one will make a great, mobile, secondary workstation. And if you rely mostly on power tools, this might be the only bench you need.
From Fine Woodworking #223
For the full article, download the PDF below:
View PDF