Film Finishes Aren't for Benchtops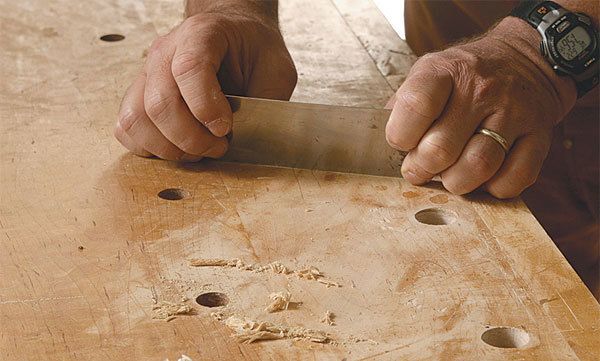 Q:
I enjoyed Michael Pekovich's article on wiping varnishes and Waterlox ("Wiping Varnish: The Only Finish You'll Ever Need," FWW #218). I am building a bench out of hard maple. Is there any reason not to use Waterlox as the finish on the bench?
Keith Bibelhausen, Dubuque, IA
A:
Waterlox is fine for the base, but don't use it on the top. It's a film finish, which can cause problems on the benchtop. It can be slick, causing parts to slide around when you're working on them. And the benchtop needs to be occasionally flattened and it would be a pain to remove a film finish before doing that. Also, I scrape the top often to remove glue and dried finish and it's not good to scrape through a film finish in spots.
A penetrating finish, like linseed or Danish oil, is a better choice. I keep a can of Watco Danish oil around that I slop on and wipe off when I scrape through the finish. It never really builds a film, but it does prevent some moisture transfer and makes glue cleanup easy.