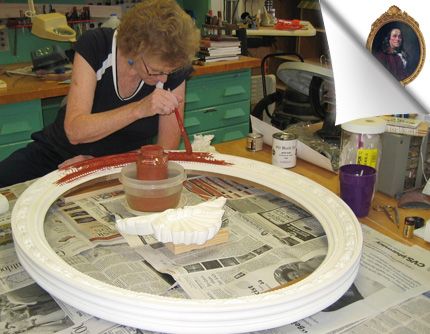 Woodworkers are known as a fastidious bunch. We anguish over every fraction-of-an-inch, evaluate the flatness of every plane, and generally drive ourselves to near insanity as we strive to produce what is to us, the perfect piece.
Roger and Judy Sanwald's recent ode to one of our nation's most popular founding fathers stands as perhaps the near epitome of this notion. Whenever you take on a project so mired in detail and technical intricacy that you have to take into account your shop's air-handling system (anybody here ever experiment with gold leaf?), you have to wonder if it's all worth it. When you witness the construction process of a gilded frame they put together to house a portrait of Benjamin Franklin however, you'll most likely answer that question with a resounding "yes."
After Judy's brother and business partner commissioned a frame for their Franklin portrait to hang in, the pair were left less-than-impressed. Enter Roger and Judy, who together, crafted a piece based strictly on approved preservation techniques. And when you find out just how long it took to produce this frame, you can't help but wonder how much longer it would have taken some 200 years ago, without the benefit of modern shapers, routers, and tablesaws!