The Language of Furniture Construction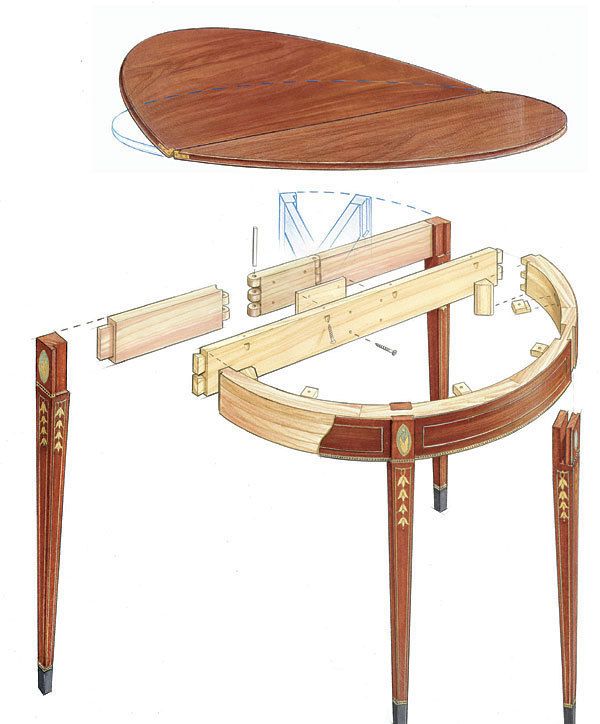 Synopsis: Do you know the difference between a runner and a kicker? A rail and a stile? Here's a short visual glossary of furniture parts that can also serve as a readers' guide to Fine Woodworking. It includes the parts of tables, case pieces, and chairs, so you'll never be left grasping for the right term when it comes to describing your work.
From Fine Woodworking #220
An old Czech proverb says that to learn a new language is to gain a new soul. That transformative power also exists in woodworking, where the craft's dialect can seem as bewildering to the newcomer as a foreign tongue. Grasp it, though, and you'll begin to see and think in new ways.
Like any craft, woodworking has specialized terms for its tools and techniques. It is full of everyday words that live different lives in the woodshop—from frogs and fences to stretchers and aprons. A comprehensive glossary could fill a book, and has, but this short one will get you started.
Because the furniture itself is the heart of furniture making, we decided to begin with a visual glossary of furniture parts. When you start researching projects you'd like to tackle, or you find yourself describing what you want to build, this guide will help. It will also act as a reader's guide to Fine Woodworking magazine, representing the official terms we have settled on over the decades.
Knowing the language of woodworking won't make you a woodworker, but it can help you learn the craft, share your ideas, and express yourself. It also connects you to the history and tradition of the craft. And there's a lot of soul in that.
TABLES People commonly talk about tables in terms of their function—dining table, sofa table, end table, etc. But furniture makers must go deeper, knowing the name of every part.
Kicker Vs. Runner How is a dresser or table drawer like an open sleigh? It slides on its runners. Remember that and you won't confuse runners and kickers, a common mistake. Together, they control a drawer's movement inside the case.
Drawer rails are placed above and below a drawer front, connecting a table's legs.
Drawer runners run from front to back inside the case to provide the surface on which the drawer slides.
Aprons connect the upper parts of the legs of a table. Also referred to as a rail.
For the full article, download the PDF below:
View PDF