Simple Solution to a Potential Shop Hazard: The SafetyGate Outlet Adapter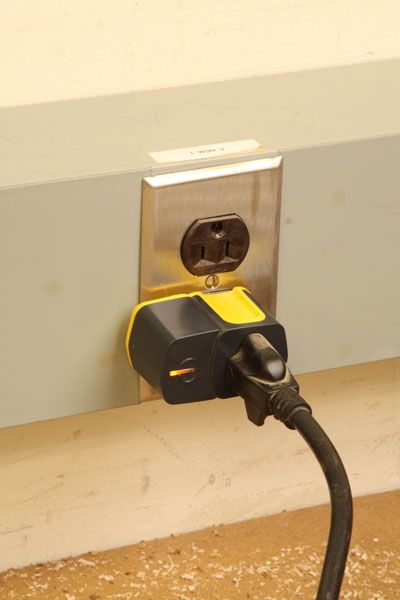 If you've ever lost electricity while using a power tool, you know how startling it can be when power comes back and the tool starts up because you forgot to turn it off after the outage. Most of the time, the restart is harmless. But it can be damaging or dangerous, especially if the cutter is in contact with the workpiece or your body.
A simple solution is to plug the tool into the SafetyGate outlet adapter. This gizmo works like a magnetic switch on bigger machines, preventing the tool from restarting automatically. It cuts power until the user can reset the machine by turning it off and then on. An indicator light will tell you when SafetyGate is in "protect mode."
The adapter works with any power loss resulting from a circuit-breaker trip, blackout, or even if the plug comes out. However, it won't protect you if power is disconnected downstream from the device; that means if you use an extension cord and the connection between the cord and tool comes apart, the tool will restart when you restore the connection.
SafetyGate Professional restart protection device
$24 at safetygatestore.com