Tanning beds accelerate aging for cherry, not just humans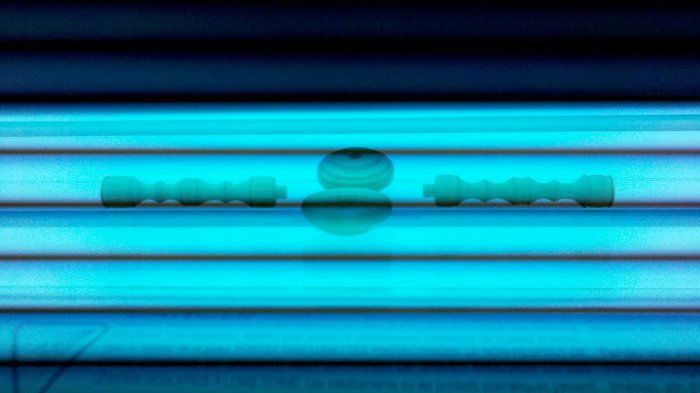 In a recent phone conversation, John Greco mentioned to me that he had been trying get some padauk to achieve that nice, deep red color that he prefers to the garish red of the freshly-milled wood. His method of choice had been to go solar: foil-coated pieces of cardboard, cleverly arranged on his backyard picnic table. A great method, methinks, and easy on the kilowatts.
But recent cloudy weather put a damper on getting a similar look for some cherry candlesticks he had just made for his daughter's "Monte Carlo Night" fundraiser. John mentioned that his spouse remarked: "Too bad you can't just throw it on a tanning bed."
Well, actually…you can. And John did. (Many thanks to his wife for the suggestion.)
The best part of this story, John mentions, was having the tanning salon attendants ask: "Um, are you going to be going into the tanning bed WITH the wood?"
John Greco's cherry candlesticks catch some rays in a tanning bed. He let them sit there for 12 minutes.
Here's the before shot. It's a nice cherry candlestick, but it's fresh and has none of the characteristic aging.
Once out of the tanning bed, the wood wasn't as noticeably dark as expected--fairly subtle, John said. But a coat of tung oil later, the finish begins to show those deep tones.
3 coats of tung oil and a few days later, though, the result is a clear winner: a deep, dark cherry color, like the patina you sometimes find on vintage American furniture.