Free Home Storage Building Plans
Let's face it, although I'm sure we'd all love to spend our woodworking days building beautiful sideboards and slant-top secretaries, from time-to-time, we all need to switch our focus to more practical building projects.
In this free chapter download from Woodoworking for the Home: Storage Projects for All Around the House, Niall Barrett covers the construction of a traditional butcher block-style cutting board and knife rack combo that serve as the perfect work station for food prep.
For those of you still storing your wine on the pantry floor, Barrett's method for building a proper, horizontal storage wine rack is economical, simple, and graceful. Both projects can be handled in a weekend and are among well-over a dozen projects included in the book. Among the other projects highlighted in this volume are:
Pantry Door Shelves
Hanging Pot Rack
Convertible Wine Cabinet
Printer Stand
File Cabinet
Kitchen Island & Stool
Medicine Cabinet
Click here to download your free chapter!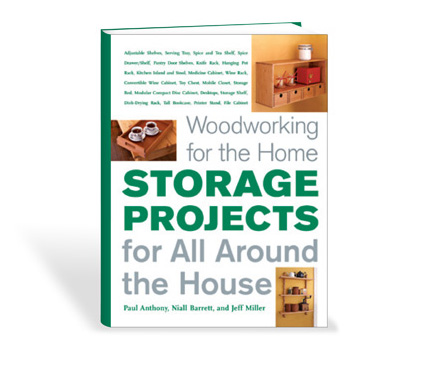 Niall Barrett's design for a kitchen work station combines a beautiful end grain cutting board with vertical knife storage.
Download a free chapter with plans on building a wine rack and cutting board/knife rack work station.