Glory, thy name is Unifence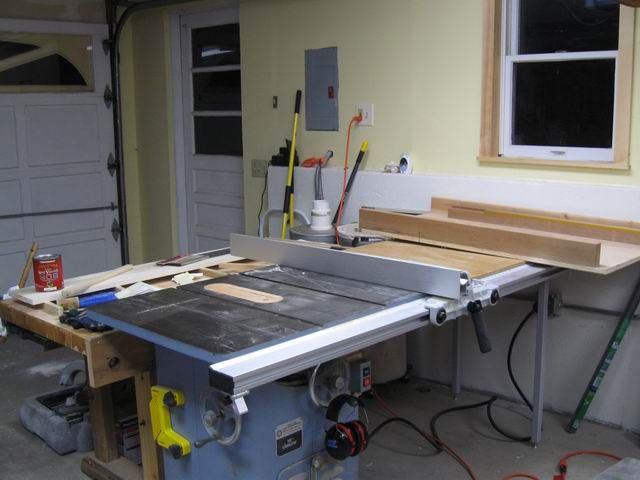 Yes, it might be a bit blasphemous to equate glory with a table saw rip fence (or offensive in some other way, I'm sure), but the Unifence I recently installed on my Unisaw has been a tremendous, work-altering revelation to me. When I bought my Unisaw (see the story here), it had a disgusting, treacherous, and malign growth attached: a Jet-lock fence. The fence was inaccurate, hard to adjust, and had a slightly bent fence body. It was frustrating to use my saw. In fact, I never attempted any precise rips on it, because the fence just couldn't perform. So I always longed to upgrade the fence. And I knew just the fence I wanted: a Delta Unifence. I'd used one quite a bit back in South Carolina, in the shop of my friend Joe Mazurek, and loved it. But a new Unifence was always a bit of a pipe dream (they retailed for about twice what I paid for the Unisaw). However, I recently caught a break on one and I am glad I did.
Here's what I like. First, the Unifence is a fantasic t-square style fence. It slides smoothly along the saw table and extension fence, locks square to the blade every time, and doesn't move a smidge once locked into place. Second, the fence can be slid to and fro on the clamping head, like rip fences on European saws. That means you can slide it back past the blade and use it as a stop for cross cutting. Third, the rule is accurate and I don't have to measure from the blade to the fence repeatedly. I just line up the cursor to the distance I want, lock the fence in place, and go to work. Finally, and this is a huge plus for someone who likes to make boxes as much as I do, the fence body is actually two fences in one. In addition to the standard fence, there is a fence face for ripping thin stock. All you have to do is detach the fence body from the clamping head and rotate it 90 degrees. The standard face is then clamped to the head and a very short face now faces the blade. What's the big benefit? Well, your hand is no longer cramped between the fence and push stick, and you can use a shorter push stick, which makes it easier to control the stock.
It's like I have a brand new saw. Really. It's no longer a machine for rough work, but a precision tool that I can trust every time I use it. And that makes me smile. (Now I just need to put in new bearings and hook up some dust collection.)
Here's the bad news. Delta, I've been told, has stopped making the Unifence, which probably explains why I was able to buy one at 50% off retail. However, there still are some around. So, if you're looking for a new fence, consider the Unifence. I'm glad I did.
(Safety note: You'll notice that I don't have a splitter or guard installed. That's not because I'm a reckless fool. The throat plate that's installed is for my cross-cut sled. Otherwise, I use a small splitter built into the throat plate. As for the guard, it's sad to say that the saw didn't come with one. However, I'm about to make one that hangs on a rigid, but adjustable, bar attached to the ceiling.)
Rock solid and silky smooth. The Unifence is a t-square style fence that locks down tight and slides gracefully across the table.
Ready for cross cuts. Because it can slide forward and back on the head, the Unifence can be used as a stop when you're cross cutting. That means you can use the fence's rule to set the distance.
Three fences in one! Not only is the Unifence a great standard fence and cross cut stop, it also is the best fence for ripping thin stock. Attaching the standard face to the head turns a very short fence toward the blade and makes a lot of room for your hand and push stick to pass the blade.