Play Against the Grain: The Wrong Way to Rip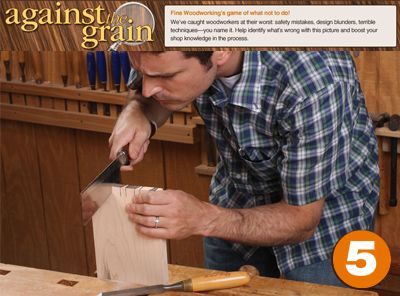 Against the Grain: The Wrong Way to Rip
Normally, when I post new editions of our Against the Grain game, I infuse a wee bit of humor into the text. ATG 2 was dubbed "Dozuki Disaster" and featured a photo of yours-truly with some self deprecating text beneath it. This time however, I'm taking off my comedic attire and taking a more serious tone.
Kickback is one of those dangers that's ever-present in any shop with a tablesaw. That said, no matter how safe a person generally is when working with power tools, everyone slips up once-in-a-while. Maybe it's the end of the day and you just don't feel like hooking up the fancy auxiliary fence. Perhaps you're on your last cut and you figure you can wing it without the push stick – just this once. Whatever the reason, we all let our guard down (no pun intended) from time-to-time, even if we don't necessarily get burned as a result.
Case in point, my fellow Lumberjocker, Rob. Due to a faulty throat plate in his tablesaw, he suffered a nice gash to his head (luckily not to his eye) when a small piece of stock came winging at him after it caught the lip of the plate, twisted just enough, and well, you know how it works–or do you? After you've played this edition of Against the Grain and found the five woodworking no-no's, be sure to read, and heed, Rob's story. It's no laughing matter.
Play Past Games