Off Topic Question: What do you listen to?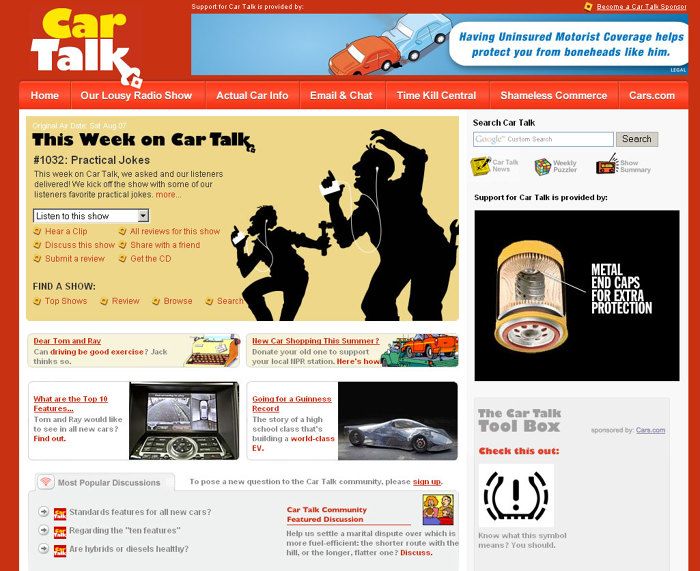 Here at Fine Woodworking, we're a rather analytical bunch. We spend a lot of time thinking about you our audience… Hemming and hawing about what sort of projects you like, what articles you read, what posts draw your comments, what video lengths you prefer, etc.
Sometimes we even wonder what you do in your non woodworking life. Last year, for instance, I started to feel a little sad watching our traffic numbers dwindle during the summer. You folks were kind enough to weigh in and let me know what you're doing with yourselves when you're not visiting our site. Home improvement projects and gardening were the top warm-weather hobbies.
Today, my question is… what do you listen to when you're in the shop, in the car, or relaxing? Are you a heavy metal fan? Classical music junkie? Or maybe a Car Talk devotee.
I'm starting a poll below with some generic categories/shows. You'll notice it has a public radio bias because I'm a talk-radio freak (I'm a religious Planet Money podcast listener)! But post comments with more on your favorite music/audio shows I can augment the list.
Update: MDandF brings up another good question… how do you listen? Are you a die-hard radio fan or a podcast convert? Or, do you consume radio via the Web or satellite? Post a comment below or take this poll about podcast usage specifically. Up until now, we haven't produced many podcasts. Would people be interested in FW woodworking audio podcasts?
And, I don't mind off-topic conversations here… if you want to chime in with other interesting tidbits about you, that's fine by me. 🙂 What type of ice cream you like… Other sites you visit… Languages you speak… TV shows you watch… etc.
This is what I love about the internet, instead of just mulling it over, now I can throw the question into cyberspace and hopefully get some replies in return.