Festool - Festool- Heavy-Duty Plunge Router OF2200
This router offers an dust extraction column.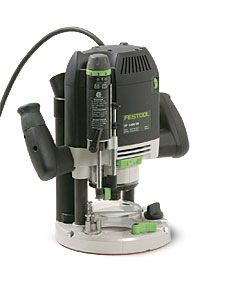 The excellent angled grips on this router ensure that your wrists remain straight, which leads to greater control. The dust collection is far and away the best of the bunch. It left just a few chips in the mortises I routed, and it was flawless when routing edge profiles. The Festool also has the smoothest plunge, the best plunge lock, and easy micro and macro height adjustments. The edge guide is superb and the ratcheting spindle lock works very well. Finally, it was one of only two routers that have an automatic spindle brake, a nice extra when you have a lot of stopping andstarting to do. On the down side, the drop-down dust shroud can make it hard to see the bit on deeper plunges. Also, the accessory kit that contains the edge guide and guide bushing system adds $300 to an already lofty price.