Shopmade Clamp and Assembly Worktable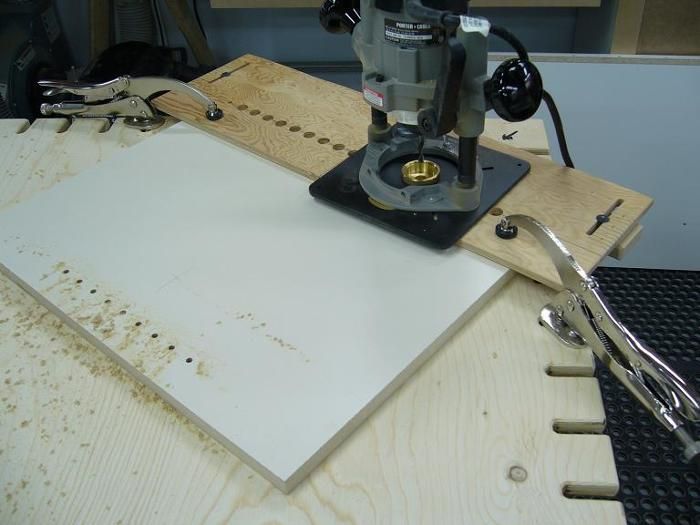 I came up with this very unique and satisfying version of a clamp worktable, made right here in my shop, using material from my sheet goods scrap pile. I designed it so I could use my collection of ordinary and fast action vise clamps meant to be used at the drill press.
As shown, a 30″ X 36″ base is made out of 3/4″ plywood, which is notched every 2-1/2″ around the perimeter, 2″ deep, to accept the vise clamps' shank without removing (threading off) the O-nuts. This base is usefull to hold workpieces for sawing, carving, routing, sanding, etc. The clamping action is quick and positionning the vise clamps is nearly unlimited.
I also made a 30″ X 24″ sub-base out of 5/8″ thick Melamine (so glue won't stick to it), on which I've added a 1-1/8″ edge strip on 2 sides to register workpieces when required, like when drilling pocket holes, building drawers and carcasses square. Since those strips are screwed on the edge of the sub-base, they protrude 1/2″ over the top surface giving me the registration edges I wanted. Here again the multi-positions feature I can get from the vise clamps is just incredible. To be removable, this sub-base is held to the base with four 1-1/4″-long 1/4-20 f.h. bolts and four 1/4-20 T-nuts installed from under the base.
To prevent the jig from slipping or creeping, I throw a router pad on the workbench, shop cart, Workmate, router table or sawhorses and I'm ready to go. When needed, I also clamp the base. I'm thinking about adding a removable block (with T-nuts & bolts) under the base so it could get clamped in the Workmate or the workbench vise to prevent it from creeping when side pressure is applied.
This is my best shopmade jig ever. Attached are some uses for this great jig.
For more details and photos, find it here on my website.
Best,
Serge, http://www.atelierdubricoleur.spaces.live.com
If you don't want to build your own, you can buy one similar made by Kreg from:
http://www.rockler.com/product.cfm?page=18025&filter=kreg