Rockler - Rockler- Insty Bit Tenon-Lok
When the Tenon-Lok bit is pushed against the bottom of a previously drilled hole, winged cutters deploy, creating the dovetail shape that locks in the tenon.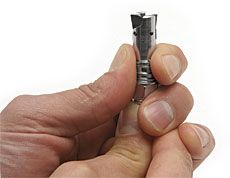 The joint where a chair leg meets a stretcher gets a lot of stress and when it breaks, a long-lasting repair is challenging. But the Insty Bit Tenon-Lok promises to make this high-stress joint stronger from the start as well as fixing old chairs for good.
The heart of the system is a clever bit sized from 1/2 in. to 1 in. ($19 to $22) with two spring-loaded cutters. You first drill a straight, flat-bottomed hole, and then use the Tenon-Lok bit to flare the bottom. A sharpened piece of steel tubing, called a Wedge Ring ($5 to $8 for 12), is driven in as the stretcher is pounded home, creating a dovetailed tenon that locks inside the flared hole. Seating the wedge ring requires some force, but once you do, your chair will stand up to just about anything.