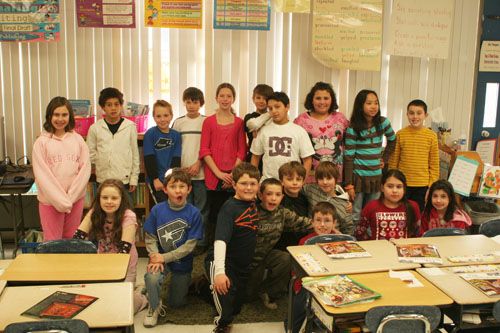 Last week I went back to school.
Friday I had the pleasure of talking to my son's 4th-grade class about my cool job as a magazine editor and web contributor. I have a dream job that allows me to engage a few of my favorite things–writing, photography, and woodworking–and I was eager to share some of my experiences.
First, I offered the kids a look into how an article comes together from start to finish, with an emphasis on creating an outline and doing a rough draft. I really wanted to make the point that good writing often is a step-by-step process, and I wanted to show them that even adults require multiple drafts and editing. I hope the tips were helful.
I gave out issue #210 to all the students, and I was quite pleased to hear gasps of "Cool!" and "Wow!" They really liked the furniture and asked how some of the pieces were made and what I like to build. That was very cool to hear.
I also brought along my camera kit, giving a glimpse into what each lense is used for. I think the kids asked the most questions about the photography, with a close second being questions about where I've traveled to, in particular the farthest place I've gone (Sandpoint, Idaho). Finally, I played a couple videos that I'd done for FineWoodworking.com. They really liked that. After all, it's not often that they get to watch TV in school.
Anyway, it was a fun hour, and the kids made it go by quickly because they were engaged and interested. Maybe I'll be invited back to talk more about woodworking. I wonder if the principal would freak if I wheeled my bandsaw and bench into school…