Rockler - Rockler- Downdraft Table Panels
Downdraft panels clear the air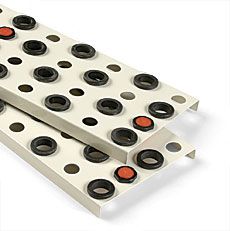 My wife hates the little piles of dust I leave around the house after I've spent an hour or two sanding in the shop, and I'm sure that some dust has snuck past my particle mask into my lungs. So when a pair of Rockler Downdraft Table Panels showed up in Fine Woodworking's editorial mailbox, I put them to use right away in a shopmade downdraft table that I built using plans posted on Rockler's Web site (www.rockler.com).
The downdraft panels each measure 6-3/4 in. by 16-1/2 in. and have nonslip rubber grommets mounted in 3/4-in.-dia. holes. The setup works great with a portable dust collector, but it was less effective with my shop vacuum, especially with smaller workpieces. Small workpieces leave more holes exposed, reducing suction, so I cut some scraps of 3/4-in. plywood into rectangular panels that I can swap with one or two of the ventilated panels when necessary. This helped a lot. The panels sell for $26 per pair. You'll need two pairs to build the downdraft table shown.
Slip-free and sturdy. Rockler's steel Downdraft Table Panels support your work on rubber grommets that prevent damage and absorb vibration.