Are CNC machines ready for Fine Woodworking?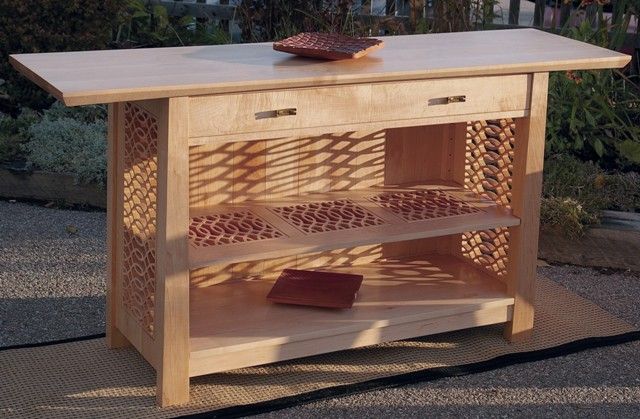 Many folks equate CNC machines with mass produced cabinets and knock-down furniture, but professional furniture maker, Stephen Mosher of Hampton, Nova Scotia, Canada aims to change that. He told me that he turned to CNC machines 8 years ago when he got bored with conventional hand and power tools after working wood for more than 30 years.
His ShopBot CNC allowed him to make pieces that would be too labor-intensive to make profitably any other way. In addition to his own work, he also does contract work for furniture showrooms and he's willing to take on projects with hobbyists, too.
Do you think there's room for CNC in fine foodworking? Have you ever considered buying a machine or contracting some of your furniture making process, like making jigs or prototypes, to a shop that has a CNC? Please leave a comment and tell us what you think.
Furniture maker, Stephen Mosher uses a ShopBot CNC to cut the grills in his Asian-influenced sideboard. The machine can do in a couple hours what would otherwise take days or weeks to do by hand.
Besided pierced work, Stephen also uses his CNC for 3D carving like the scroll work that's below the doors on this cherry sideboard.
With a pair of cutting heads, Stephen's machine requires fewer bit changes than a single head machine. It also produces surprisingly fine work.