How to make a bandsaw in a pinch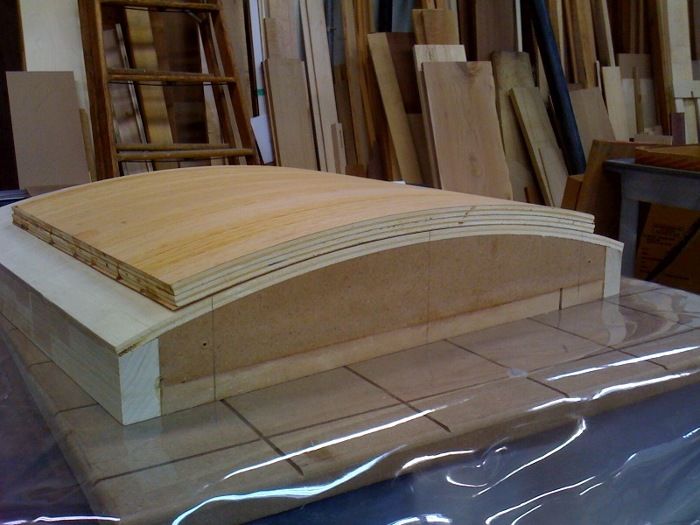 I've just started making a bow front jewelry cabinet for my wife. The first thing I needed to do was to make a bending form so that I could vacuum press the curved panels for the doors. The form is made up of a lot or ribs glued to a base and covered with some flexible plywood. I made a pattern of the ribs so that I could pattern rout all of them and have them be exactly the same (which would make for a better form). Before I could rout them, I needed to rough out the curve. I don't have bandsaw at home and the ribs were too narrow to clamp to the bench and cut with a jig saw. But holding the workpiece still and moving the tool isn't the only way to get the job done. You can also hold the tool still and move the workpiece. That's one difference between a tablesaw and circular saw, for example. So I decided I would hold the jigsaw still and move the ribs past the blade. The question: How do you do that? Well, I remebered hearing stories from my dad and uncle, both contractors, about carpenters who would screw their circ saws to a sheet of plywood, flip it over, rest it on some sawhorses and have an instant tablesaw. So that's what I did. I screwed my jigsaw to a piece of plywood, flipped it over, clamped it to my router table and, voila, I had a makeshift bandsaw (or perhaps scrollsaw). It worked great and after cutting two ribs I was able to get cuts as smooth as I do with a bandsaw, which is pretty darn smooth.
A few words of caution. Please note that the blade is moving up and down and there is no guard, which is similar to a bandsaw. So you must use caution. I kept my fingers far away from the blade. If you give this a try, please use your head. Work slow and keep your hands away from the blade.
Necessity forces innovation. I needed to rough out the ribs of this bending form before flush trimming them to a pattern. I don't have a bandsaw, so needed another way to do it.
Upside down solution. Rather than hold the ribs and move the jigsaw, I screwed the jigsaw in place and moved the ribs. It worked great. Just be careful around the blade.