Festool - T15+3 14.4-Volt Cordless Drill Kit
The T15+3 showed good torque and battery life in our tests. This versatile kit also includes right-angle, eccentric, and quick-release chucks.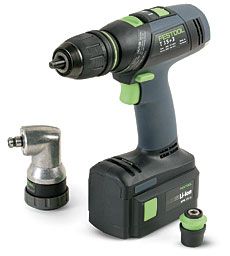 Festool'S 14.4-volt lithium-ion cordless drill, model T15+3, arrived at the same time I was testing 18-volt drills ("Tool Test: Compact 18-volt Cordless Drills," FWW #207), so I was able to test it along with its bigger cousins. Remarkably, the Festool showed more torque and better battery life than most of the 18-volters.
The T15+3 includes four chucks that can be slipped on or off the spindle in an instant. In addition to a conventional 1/2-in.-dia. keyless chuck, there is a right-angle adapter, and eccentric and quick-release bit holders. The quick-release chuck accepts hex-shanked bits and if space is especially tight, you can simply insert a hex bit directly into the spindle, giving you a drill that's only 6-1/4 in. long.
There is nothing else like the T15+3 on the market. But if you're wondering if all this versatility is worth the stratospheric price of $570, keep in mind that the rig might replace a dedicated right-angle drill, and the eccentric chuck could make life easier. Also, the innovative brushless motor should last much longer than conventional ones. For more information, go to http://tdrill.festoolusa.com.