Rockler – Lid Stay Torsion hinges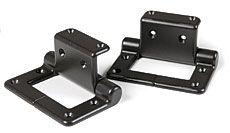 Several readers criticized Peter Turner for not installing special hinges on his blanket chest ("Hickory and Ash Blanket Chest," FWW #203) that prevent the lid from falling—a life-threatening hazard for very small children. Happily, Rockler has recently increased its range of lid-stay torsion hinges. I tried out a pair.
The hinges come in three weight capacities; it is important to match the weight and size of the lid to the hinges. To make this easier, Rockler has a calculator on its Web site (www.rockler.com) where you enter the weight and depth of the lid, and it tells you the capacity and number of hinges you'll need.
You can install the lid flush with the back of the case or with an overlay. The hinges mount flush without mortising, but the back of the base must be 3/4 in. thick. While they don't look as good as traditional hinges, you can always retrofit the chest with something more traditional once the children are grown.
Once installed, the lid has a steady resistance when being opened or closed, and it will stay open at any angle, similar to the screen on a laptop computer. The hinges come in rustic bronze or zinc finish, and cost $20 each or $38 for a pair—a bit steep, but the peace of mind is worth it.