Ridgid - R82008 12-volt cordless drill/driver
A good value for furniture makers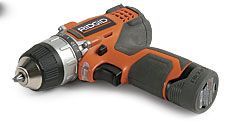 We don't normally review updated tools—but once in a while a redesign stands out. Ridgid recently released a new version of its 12-volt lithium-ion cordless drill/driver model R82008. The company claims a more powerful drive train doubles the torque rating to 240 in.-lb. Also, a second speed has been added, and the kit now includes a flashlight in addition to the drill, charger, and two batteries.
Even when it's outfitted with a 1-in.-dia. spade bit, the drill is only 12 in. long, so it fits easily between wall studs. I was able to drill 12 holes through the studs on one battery charge. Continuing in home-building mode, the drill easily drove #8-by-21/2-in. screws into the studs. The clutch was effective in controlling the depth.
To replicate the needs of a furniture maker, I drove #8-by-11/4-in. screws in both cherry and maple, first using a combination pilot hole/countersink bit. It also comfortably drilled holes in maple using both regular and Forstner bits up to 1 in. dia. This drill will not compete with the power of an 18-volt drill, but its size, price, and capabilities fit a furniture maker just right.