Cutting-edge High School Woodworking Program Thrives in Ohio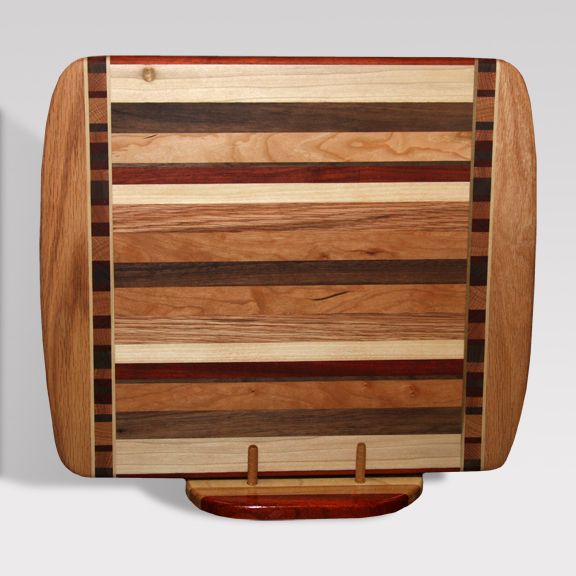 Jim Buker wants his woodworking students to believe in themselves and to have fun.
Judging by what his kids are creating, it looks like he's been successful. Buker, the woodworking instructor at Ontario High School in Ohio, since 1986, gives students free reign in their furniture designs. "I want to make them believe they can tackle complex projects," he says.

The woodworking program has three levels, from basic to advanced. Buker starts level-one students with a primer on shop and machine safety. In that class they make a chic cutting board, which introduces them to hand tools and machine skills. This project is followed by a small jewelry box and a segmented bowl. Once they've finished that core class, students step freely into a woodworking world with no boundaries.

The average class size is about 20, and Buker grades students based on use of time and initiative, craftsmanship, skill and technique, aesthetics, creativity, and how well they fulfill their objectives. "I have about four or five kids stay after school to work in the shop," he says. "For many of my students, the time spent in my class is the best part of their school day."
Buker mentions that many past students have pursued degrees in art and some have even become professional woodworkers. A few of his current students are applying to prestigious art schools, with plans to focus on furniture design. But not all of his students pursue woodworking careers. "I have taught students who are now businessmen, lawyers and doctors. But they still know something about woodworking," he says.

One carrot that Buker dangles in front of his students is the chance to appear in the Ohio Governor's Youth Art Exhibition. It's a statewide competition, featuring various art media from woodworking to glassware to painting and sculpture, in which 12,000 to 13,000 entries are whittled down by judges to a collection of 300. Those top pieces are put on exhibit at the James A. Rhodes State Office Tower. From those 300, 25 students are chosen to receive the Governor's Award of Excellence. Some of Buker's previous students have made the finals.

To me, the most amazing thing is that Buker does this on a shoestring budget of $3,300 per year. Students pay for their own lumber, and there is a materials fee of $30 per class to cover the costs of miscellaneous hardware, glue, etc. Buker is not alone in his venture. His wife, Julie, an art instructor at the school, helps students with proportions and form. "She helps to drive the program," says Buker, "encouraging the kids to look at their furniture as an art form." He also gets an assist from a volunteer, Mike Frye, a retired teacher and an avid woodworker with a passion for the craft.

It's wonderful to see a woodworking program thriving during these times of school budget cuts. Many high school woodworking and industrial arts programs are being eliminated, victims of tough times. "That's too bad," says Buker. "It's a real shame that kids don't get the opportunity to experiment, tinker, problem-solve, and work [wood] with their hands. I think we need to encourage our children to be self-dependent in their daily lives."

Click on the photos to see some of his students' creations. Also, visit our online gallery for of this student work.