Safety Manual: Benchtop Planer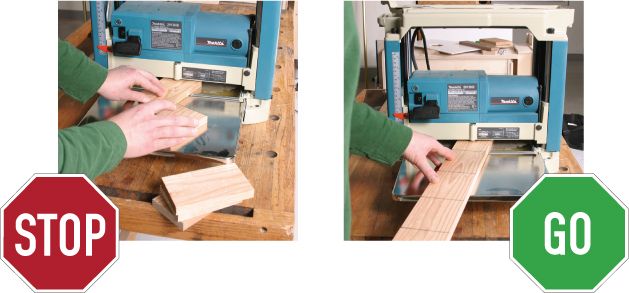 The benchtop planer is a relatively recent woodworking invention, taking the place of a large industrial planer in most shops. The typical benchtop model can put a very smooth surface on boards up to 12 in. wide, though it can't take as heavy a cut as its heavy-duty cousins.
The planer will not flatten a board, since its cut will only be as straight as the opposite side of the board, which rides on the bed. It is more aptly called a thicknesser (as the Europeans know it), and it should follow the jointer in the milling process, with the jointed surface running face down on the planer's bed.
1. Loose clothing and jewelry can be a hazard.The following is a list of safety precautions to consider when using a benchtop thickness planer:
2. Wear ear and eye protection.
3. Never plane a board that's less than 1/4 in. thick or shorter than the distance between the feed rollers (inside the machine).
4. Keep your hands away from the machine when it is running, especially the space between the bed and cutterhead.
5. If a board gets stuck in the planer, don't push it. Turn off the machine, lower the bed (or raise the cutterhead), and remove the stock.
6. Disconnect the power source before changing blades.
7. Never look into the machine (infeed or outfeed end) when it's running.
Do you have more planer safety advice to share or a scary planer story? Post a comment below and help your fellow woodworkers stay safe.
Wrong Way, Right Way: Short pieces should not be run through a benchtop planer. Instead, plane a longer board before cutting it down to size.