A Few Words in Favor of Small Tools
An avid woodworker explains why his favorite hand tools are on the small side.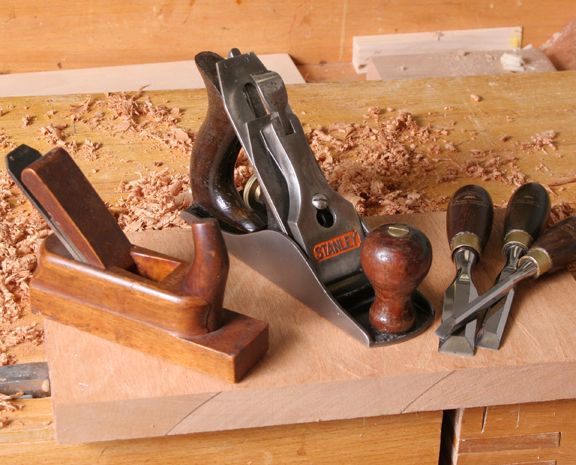 Some of my favorite hand tools would fit comfortably on the face of a dollar bill. They're the planes and chisels shown in the photo. I like them partly for the same reason people like puppies, kittens, and babies: They're tiny and adorable. But I also like them because I tell myself that the little tools give me a good feeling of control. My hands are smallish, too, but even so they envelop these little tools with ease. Pushing one of the planes or chisels across a piece of wood becomes very much like rubbing the wood directly with my hand.
The wood-bodied plane (on the left in the photo) is a German handplane with a 5-in.-long body and a 1 in. wide blade. I bought it years ago at a flea market in Pennsylvania. The plane could be a salesman's sample, an old-style block plane, or even a survivor from a child's tool set. Whatever its origins, it works well for me as a block plane. The iron takes a very nice edge, the sole is smooth and flat (not always the case with old wood-bodied planes), and it's easy to adjust. A couple of taps on the toe moves the iron out; tapping the heel moves the iron in.
In the center is a Stanley Sweetheart No. 2 that I bought a half-dozen years ago on eBay. It cost me a fortune because the small Stanley planes are prized by collectors, who push the prices up mercilessly. I've used my No. 2 both as a smoothing plane and as a block plane, and it performs well in both roles. Naturally, I wouldn't try to use it to flatten very wide or long boards. But for small pieces, it's my small tool of choice. Its sole is 7-1/4 in. long; the blade, 1-5/8 in. wide.
Finally, at the right, are small butt chisels made by Crown Tools in England. I bought them at a Woodcraft store a couple of years ago, and I use them as often as I can. They're about 6 in. long overall, with a shaft that's just a bit over 3 in. long. When I put the nicely rounded handle in my palm, my index finger reaches nearly to the edge. I've used them for such tasks as cleaning out the bottom of grooves and paring tenons to fit mortises.
Sure, I have larger tools: A regular-sized set of bench chisels, a Lie-Nielsen No. 4 plane, and a humongous Stanley No. 8 that I inherited from my father-in-law. (I think he may have used it once, which puts him ahead of me). The big guys have their place. But, as they say, small is beautiful. Also handy.