Marking Knife Cuts Wrong Board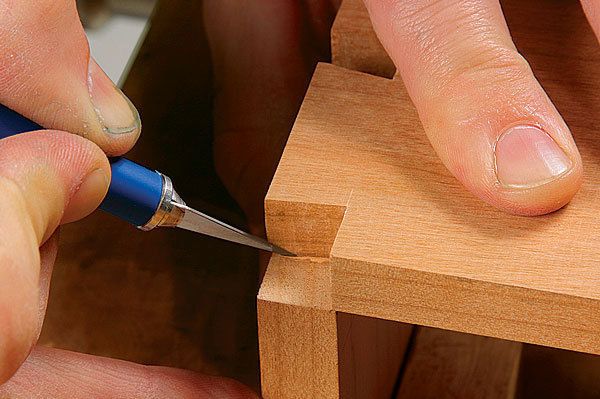 QUESTION:
When I cut dovetails, I do the tails first and then transfer them with a marking knife to the pin board. But my knife often cuts into my tails. What am I doing wrong and how can I correct it?
Bill Huyck, Sewanee, TN
ANSWER:
My guess is that you're using a marking knife with a bevel on each face, like an X-Acto knife.
If the blade is tilted too much, there's nothing to guide it and it will cut into your tails. If it's too vertical, the scribe line will be offset and inaccurate.
Tilt the knife so the bevel rides against the workpiece and guides the knife. It will scribe adjacent to the tail without cutting into it.
Another option is to get a knife with a bevel on only one face, which makes it easier to hold the knife flush to the tails. A spear-point knife is a great single-bevel knife, because it can be quickly flipped for scribing to the right or left of a workpiece, like when you're marking both sides of a tail.
Drawings by Kelly J. Dunton