Illustrated guide to drawers
The ideal drawer? That depends. Here's how to choose.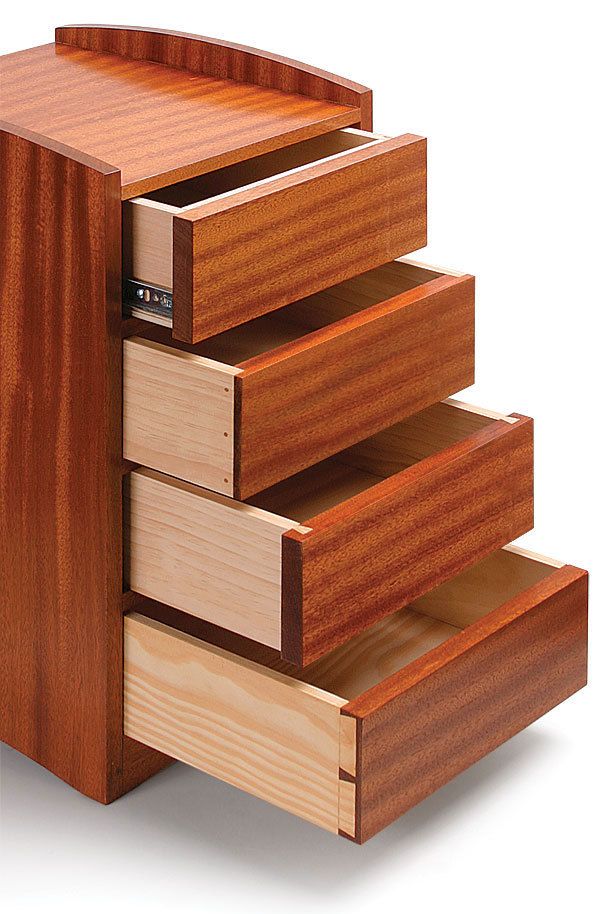 Synopsis: At their essence, drawers are simple things–just boxes that slide into an opening in a case or table. But there are so many different ways to design and make a drawer that it can be daunting. This guide aims to give woodworkers an understanding of the many ways to make a drawer, the various materials available, and which designs are suitable for different uses. From a simple plywood utility drawer with a false front to a solid-wood masterpiece with hand-cut half-blind dovetails joining the front and back, this is a comprehensive guide you'll turn to anytime you're designing a piece with drawers.
From Fine Woodworking #201
Whether it's a tiny drawer in a jewelry box or the wide, deep drawer of a dresser, all drawers are little more than a box that slides into an opening. But there are nearly endless combinations of construction methods that can be used to build that box. By understanding the various ways in which drawers are made, you'll be able to choose the best construction method for your project, with the ideal blend of beauty, strength, and efficiency.
Drawers can be made of solid wood, plywood, or both. Drawer fronts often become the focal points of a piece, showing off spectacular figure, molded edges, or a handsome pull. The actual drawer front can be integral to the drawer, meaning that it is joined directly to the drawer sides, or it can be attached to a fully constructed drawer box. Joinery options at both the back and front can range from simple butt joints to classic hand-cut dovetails. Drawer bottoms can be made from solid wood or plywood.
To size a drawer correctly, you need to know not only the size of the opening, but also the depth of the inset. Drawers can be designed flush to, recessed into, or overlapping the front of the case.
Different styles of furniture call for different types of drawers. While a plywood drawer with a false front makes sense in a shop cabinet, it would be quite out of place in a high-style 18th-century reproduction. The joinery and materials you choose should fit the type of furniture you want to build. So should the way the drawer will slide in and out of its pocket. So let's start there.
Drawer slides influence design and construction: Like all drawer decisions, drawer-slide options range from simple and efficient to finely handcrafted. Traditionally, the sides of a wooden drawer slide directly on a wooden frame within the case. Most drawers with integral fronts work well with this design because the drawer is sized and constructed to fit the opening.
Manufactured drawer slides have long been common on kitchen cabinets, but they're being used more and more on highend furniture today. Although frowned upon by some purists, contemporary slide designs install quickly and painlessly, and it's difficult to find fault with their smooth action, soft-close mechanisms, and fullextension capability. These slides can be side- or bottom-mounted, and are perfect for use with false-front drawers or drawers with sliding dovetails.
Each type of commercial slide has its own drawer requirements, so you'll have to build the drawer to accommodate the slides. For instance, side-mounted slides typically require 1⁄2 in. of space on both sides of the drawer box. If you're using commercial slides, it's a good idea to have them on hand before you build either the case or the drawers.
For the full article, download the PDF below:
View PDF