Protect Yourself From Wood Dust
Masks and respirators are the best defense against the most harmful dust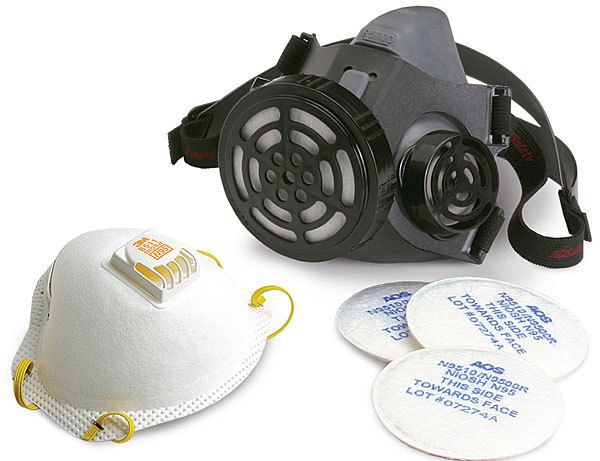 Synopsis: Dust masks and respirators come in dozens of styles and a wide range of prices. Which ones do the best job of protecting your lungs from wood dust? Jeff Miller tested a number of masks and respirators to see which ones are most effective at keeping out the smallest and most dangerous  particles–the ones that cause nasal and sinus-cavity irritation, allergies, lung congestion, chronic cough, and cancer. Read this review to find out whether you need to invest a few bucks for a disposable dust mask, or shell out much more for a powered respirator. The answers may surprise you.
From Fine Woodworking #201
Wood dust is a woodworker's constant companion and a constant threat. It doesn't take much airborne dust to exceed the exposure limits recommended by the National Institute for Occupational Safety and Health. In fact, you'll quickly blow past them when machining or sanding wood. Dust collectors and air cleaners help control wood dust, but even when optimized for your shop they don't catch it all. The smallest and most dangerous particles escape them.
Exposure to those minute particles can cause nasal and sinus-cavity irritation, allergies, lung congestion, chronic cough, and cancer. That's why it's important to wear a dust mask or a powered respirator whenever you're producing dust, or working in the shop afterward.
You're more likely to wear a dust mask or respirator if it's comfortable and fits well. You might need to look beyond your local hardware store, but great choices are out there. In fact, there are so many options you might feel overwhelmed. But that won't happen if you know how dust masks and respirators work, how to tell if one fits you well, and which features make one more comfortable.
I recently tested a large selection of masks and respirators, and had the editors at Fine Woodworking do the same. I'll tell you what we liked about them and what we didn't. That will help you know where to begin your search for a good-fitting and effective dust mask or respirator.
After all of our testing, it's clear that there are a few key features that make for a great mask or respirator. You should put them at the top of your list before you shop.
Comfort and fit matter most: An exhaust valve is an indispensable feature on a dust mask. In fact, we recommend you steer clear of any dust mask that doesn't have one. Exhaust valves clear the warm air you exhale, prevent safety glasses from fogging, and help keep your face cooler.
You also should look for a mask that is made from face-friendly material. The interior of the 3M 8511, for example, is soft and fleece-like. An adjustable nosepiece is important, because it allows the mask to form a tighter seal against your face and allows you to customize the mask to the shape of your nose.
For the full article, download the PDF below:
View PDF