Oneida - Oneida – XXP020100 Portable Dust Collector
This compact, roll-around unit has plenty of power with a 2-1/2-hp, 230-volt motor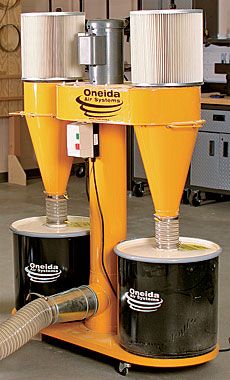 The new Oneida portable dust collector offers the power and efficiency of a large cyclone collector in a compact, roll-around unit. Powered by a 2-1/2-hp, 230-volt induction motor, it moves a respectable 780 cu. ft. of air per minute, according to Oneida. A 15-ft.-long, 5-in.-dia. flexible hose is included with the unit.
To reduce top-heaviness and keep the height of the collector reasonably short at 62-1/2 in., Oneida placed the motor and blower in the center of the machine and fed the airflow into two smaller cyclones that flank the blower. Each cyclone has a 17-gallon drum and a high-quality pleated canister for final filtering. According to the manufacturer, the pleated filters capture 99.9% of dust from 0.2 microns to 2 microns.
The dust collector ships disassembled, but it went together easily. You'll need to add a plug to the end of the cord. The fit and finish were impressive, truly industrial grade.
In use, the power of the machine was evident. It could handle the chips from a 12-in. thickness planer while simultaneously picking up the finer sawdust from a tablesaw with no visible dust left anywhere. The pleated filters are cleaned easily by occasionally turning crank handles at the top of each one. The barrels weren't as easy to empty as I would like, but they are no worse than any other dust collector I've tested.
At $1,200, the Oneida Portable is a hefty investment, but given its quality and performance, the price isn't unreasonable. Go to www.oneida-air.com for more information.