The Ultimate Shop Plywood
Build better jigs, tables, cauls, and cabinets with phenolic plywood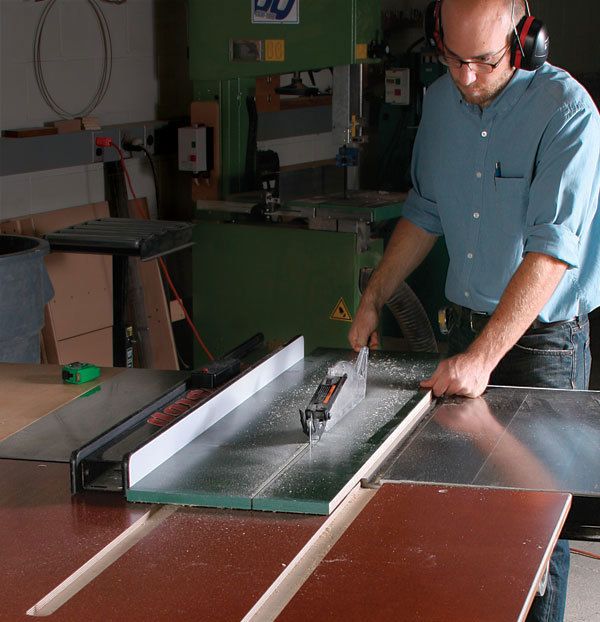 Synopsis: Phenolic-surfaced plywood is simply Baltic-birch plywood with a thin layer of phenolic resin in both faces. But that little layer of resin makes all the difference in the world. This specialty material is ideal for woodworking shops because it is strong, flat, and durable, and its glossy surface is perfect for jigs, cauls, fences, cabinets, and other uses. Any place where you need to run workpieces across a surface is the perfect place for phenolic. Stuart Lipp offers advice on finding, purchasing, and using phenolic plywood to make life easier in your shop.
On my first day working in the pattern shop at Steinway & Sons, I was introduced to a great material that has changed my woodworking. Phenolic-surfaced plywood is Balticbirch plywood that has a thin coating of phenolic resin on its faces. Used in electrical panels and switches because of its stability and strength at high temperatures, phenolic resin makes this plywood very resistant to moisture, heat, chemicals, and abrasion. Phenolic plywood also has superior strength, flatness, and durability compared to other types of plywood. Its nonstick, glassy surface makes it popular in the concrete industry, where it is used to make forms and molds.
All of these qualities combine to make phenolic plywood ideal for many woodworking applications—from jigs, fences, and cauls to work surfaces and cabinets. Anywhere a jig or workpiece needs to slide over a surface or you don't want glue to stick is the perfect place for phenolic plywood. It is manufactured in 4-ft. by 8-ft. sheets, in thicknesses of 1⁄2 in. (12.7 mm) or 3⁄4 in. (19 mm).
How to get phenolic
Phenolic plywood is a specialty material, so don't expect to find it at your local home center. It has been around for a while, though, under such aliases as Colorfin, Park lex, Euro color Ply, Wisa, and Finnform. Color options are light brown, dark brown, red, black, green, yellow, white, or clear. However, suppliers tend to purchase one color in bulk and ordering specific colors can add to the price. Cost varies quite a bit from supplier to supplier, from $54 to $140 for a full sheet of 3⁄4-in. material. The difference depends on the inventory and colors the supplier stocks.
Woodcraft sells quarter-sheets of 1⁄2-in. and 3⁄4-in. phenolic. White Cap Construction Supply stocks it and has over 150 stores across the United States, but few in the Northeast.
Use for jigs, surfaces, and cauls
When it comes to improving machinery performance and jigs, phenolic plywood is at its best. The surface is so slick that other materials glide over it, making it perfect for all types of jigs and work surfaces. The top surface of a shopmade router table is a good place to use phenolic. So is a tablesaw outfeed table. Made of phenolic, it will perform better than a basic plywood table or a roller stand, and can double as a glue-up table. Dried glue pops right off.
From Fine Woodworking #198
For the full article, download the PDF below:
View PDF