Wixey - Tool Review: Wixey Digital Protractor
A new gadget from Wixey Tools makes it quick and easy to measure angles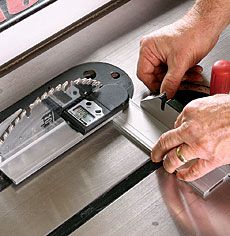 A new gadget from Wixey Tools makes it quick and easy to measure angles. The tool is especially useful for setting an angle on a tablesaw miter gauge or a miter saw. According to Wixey, the tool is accurate to plus or minus 1/10 of one degree. It must be "zeroed-out" before each use, but that takes just seconds.
Square a miter gauge. With the sawblade fully raised, the leg of the protractor butts against the body of the sawblade, ensuring accurate readings when squaring the miter gauge to the table.
Other tools, too. The Wixey is handy for setting angles on a miter saw.
The tool is sold in two sizes: 3 in. (model WR400, $50) and 8 in. (model WR410, $59). Go to www.wixey.com  for more information.