SureFire, LLC - SureFire LLC – Sonic Defenders
These earplugs let you carry on a normal conversation but reduce noise over 80 db.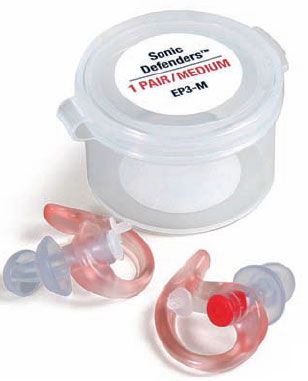 I like to listen to bluegrass music in the shop. But I'm also running noisy machines in there, several of which produce sound levels of at least 85 decibels (db.), the point at which hearing damage starts to occur. So protection is a must. Earmuffs or earplugs are great for reducing noise to a safe level, but they make the Steep Canyon Rangers sound like they are playing in a steep canyon.
Recently, I found some earplugs called Sonic Defenders (www.surefire.com/earpro), which let me enjoy my music while I protect my hearing. They don't interfere with normal conversation or low-volume background noise such as a shop radio. You can even wear them while talking on the phone. Safe sound levels are allowed to pass through to the ear, but noise levels above 80 db. are reduced. When extra protection is needed, attached stoppers can be inserted in the sound channel.
Made from a soft polymer, Sonic Defenders can be worn all day. And, at $10 per pair, they're as easy on the pocketbook as the ears.