Router-Made Bandings
Dress up your work with these unique designs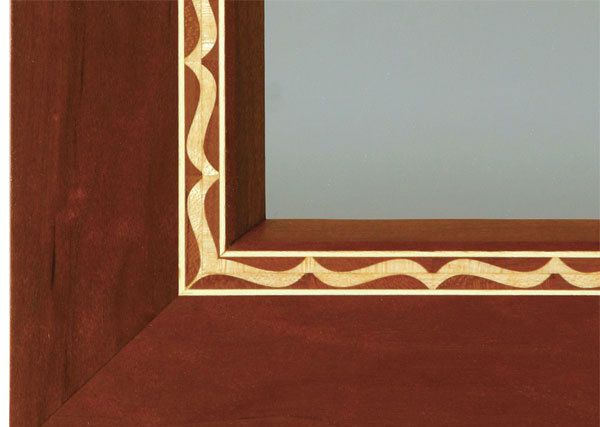 Synopsis: Banding is a great way to embellish solid furniture of any style. If you make your own banding, you can customize it to match a project and make it the style and length that suits you. Mark Arnold demonstrates two bandings that can be made using readily available router bits — a scallop banding that uses a pair of matched beading and fluting bits, and an ogee banding that uses a reversible ogee bit to make either a wide or narrow version. Step-by-step drawings and photographs illustrate the procedure for each.
Most woodworkers associate banding with Federal period furniture, when its primary role was protecting the edge of a veneered panel. However, the use of banding is not restricted to veneered work or to period furniture. It is a great way to embellish solid pieces of almost any style.
The advantages of making your own banding are that you can customize the wood to match a project, create designs with curved elements not available commercially, and make them to a length that suits you. As I'll demonstrate, you can make two such bandings easily using readily available router bits. I demonstrate a third on FineWoodworking.com. Not only will these bandings give your projects a dramatic effect, they'll also give them that personal touch.
Design starts with a router bit and the right woods
When selecting the woods for a particular banding, consider where it will be inlaid. A banding easily can be lost in the motion of a highly figured burl or crotch, or it can appear as an afterthought if the species or colors do not complement the primary wood. Contrast is desirable, but it should not detract from the subject being framed. The most successful bandings are those that appear three-dimensional, like the banding I demonstrate on Fine Woodworking.com, or make use of chatoyancy, like the ogee banding (above). Certain woods, such as the curly maple in this example, change in color and luster when viewed from different angles.
A banding blank will yield less than half its width in usable strips and the rest will end up as sawdust, so always make more than you'll need. A 1-in.-wide blank can yield up to 10 usable strips.
An ogee bit yields two types of banding A router bit with a symmetrical S-curve is used to create nested pieces of contrasting color. These pieces can be veneered for a narrow banding or stacked and veneered for a double wide design.
From Fine Woodworking #193
For the full article, download the PDF below:
View PDF