Woodcraft - Pinnacle Honing Guide
This sharpening system features a sled and rails that hold the blade and sharpening stones in place. Sandpaper and honing pastes can also be used with a special honing plate.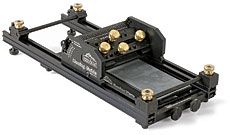 The Pinnacle honing guide is designed to assist in sharpening chisels and plane irons to a razor-sharp edge that is correctly shaped and at the proper angle.
In use, the blade is held in a sled that rides on two rails. The frame of the rails holds a sharpening stone (water, oil, or diamond) or the Pinnacle honing plate. The plate can be used with sandpaper or honing films. The sled can be set at precise angles in 5° increments from 15° to 40°. Microbevels also are possible.
It's fairly easy to mount a blade in the sled, and it automatically squares the blade to the stone. But switching from one stone to the next (progressing through grits) is tedious because each stone has to be mounted to the frame in succession. Using the plate is more convenient because you don't have to remove it to change out honing films, but it's still time consuming. Also, the frame hinders access to the stone's face, so flattening the back of a blade while it's in the sled is next to impossible. The guide cannot produce a cambered edge, and won't register correctly if the blade's sides are tapered.
I'd rate the Pinnacle 5 on a scale of 1 to 10 for convenience, ease of use, and versatility. It costs $100 ($115 for kit with guide, plate, and film) at www.woodcraft.com.
Photo: Charles Reina