Hanging a Heavy Tool Cabinet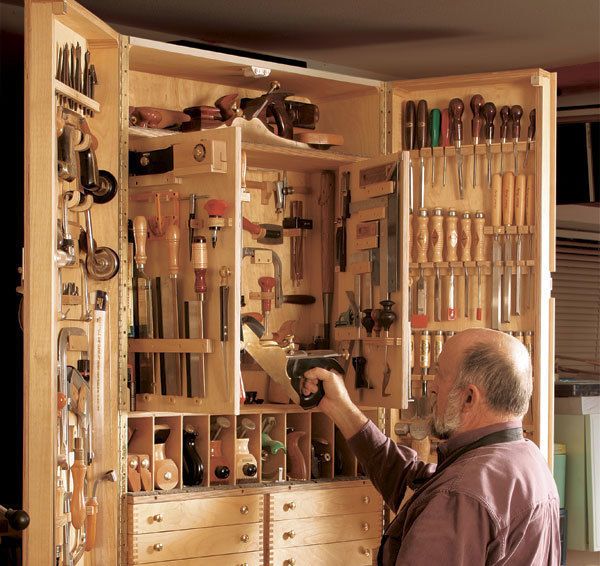 Q:
Jan Zoltowski's tool cabinet (FWW #188, pp. 40-45) is impressive, but its sheer size raises a question often overlooked in articles featuring wall-mounted cabinets. How do you properly secure something that must weigh over 300 lb. when filled with tools? The article shows the cabinet secured to the wall with French cleats, with at best four screws on each cleat that is mounted to the wall. What size are the screws, and why not use lag screws for something this heavy?
Skip Kunst, Cincinnati, OH
A:
I've been in the cabinet business for 36 years and I've never heard of a cabinet falling off a wood stud wall as the result of screw failure.
But I have seen cabinets fall because of their own poor construction, leaving their backs still on the wall.
The screw size depends on the weight the cabinets will carry. Typically, kitchen cabinets are hung with 3-1/2-in. drywall screws, but to be conservative I use 3-1/2-in. #10s. Lag screws are overkill. Two-thirds of the screw should penetrate the stud.
In my opinion, Mr. Zoltowski's cabinet-mounting system is strong enough. But for extra strength, you might add an internal cleat, then screw through it into the wall studs.
A strong connection. To secure a heavy cabinet to a wall, screw a hardwood cleat inside its top corner. Then drive 3 1/2-in. #10 screws through the cleat and into the wall studs.