Steel City Tool Works - 50250 18-in. Bandsaw
This 18-in. bandsaw from Steel City Toolworks features excellent dust-collection and a 5-year warranty.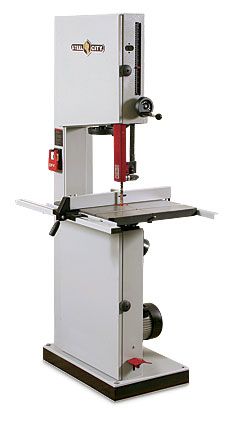 Although initially impressed by the price of Steel City Toolworks' 18-in. bandsaw and its five-year warranty, I was disappointed with the tool I tested. Resaw capacity and power are adequate, but the upper guide post flexed enough to allow the thrust bearings to flex out of alignment, which caused the blade to twist during resawing.
The table rides on aluminum trunnions, and the cast-iron trunnion supports lock securely. But the saw I looked at had a 0.012-in. crown in the middle of the table and a 0.024-in. disparity in table surfaces at the blade slot with the alignment pin removed.
The upper blade guides mount to a rack-and-pinion guide post by means of a 90º steel bracket. The bracket on the saw I tested was more than 90º, which created a twist in the blade between the upper and lower guides. Using the manual I had on hand, I missed the fact that there are set screws where the rack-and-pinion system attaches to the bandsaw frame. Adjusting these will correct the misalignment.
The eccentric adjustable roller-bearing blade guides are relatively easy to adjust, although the thumbscrews securing them are absurdly tiny.
A 4-in.-dia. dust port located below the lower blade guides does a commendable job of dust collection, and a paddle-style power switch is conveniently sized and located.
Follow the link below to read our June 2004 review of 18-in. bandsaws, published prior to the release of Steel City's 18-in. model.