Jet - Slow Speed Wet Sharpener
This slow-speed, wet sander from Jet is very similar to the Tormek and comes with a variety of sharpening jigs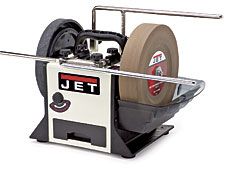 Jet's new wet sharpener has a lot in common with the Tormek SuperGrind 2000, which I reviewed in Fine Woodworking #182, but the Jet has a lower price . Like the Tormek, the Jet Sharpener uses an ultraslow 10-in.-dia. by 2-in.-wide grinding wheel—running through a water trough—and a leather-faced honing wheel. Both machines share a similar micro-adjustable support arm to hold jigs for grinding and honing.
Unlike the Tormek, the Jet has a variable-speed motor (90 to 150 rpm) that allows you to maintain grinding speed as the wheel shrinks in diameter. And the Jet does a great job at managing water by adding splash guards and a large trough.
The Jet system offers a variety of accessory jigs (interchangeable with the jigs on the Tormek system) for sharpening carving tools and turning gouges, as well as an accessory support arm for grinding on the side of the wheel, which can be helpful when sharpening tools where a hollow grind is not ideal, such as a skew chisel.
The machine I looked at had a few small problems. The straightedge jig that came with the machine required me to file a slight hump to allow the tool to register at 90°. Additionally, the support arm exhibited a slight amount of slop and required extra attention to lock it down parallel to the wheel, and the honing wheel wobbled. Yet despite these small problems, I was able to achieve excellent results when sharpening and honing.
The Jet's performance and price ($100 less than the Tormek) make this machine a good value. The basic kit includes the machine, a stone grader, straightedge jig, angle measuring devices, support arm, honing compound, and a training DVD.