Veritas - 05A01.01 Workbench
This workbench from Veritas features a center tool tray and full-width end-vise.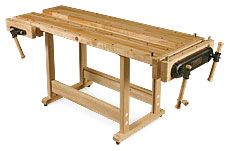 Opinions differed sharply on this bench, with nearly half the editors picking it as best value while others considered it overpriced. The most debated feature was the twinscrew tail vise—a Veritas exclusive. Proponents cited its lack of racking and ability to clamp a 15-1/2-in.-wide board between the guides, and proclaimed it the best end vise on any bench. Skeptics called it weird, stiff, and jerky. The vise arrived unable to turn using one handle. Shop manager John White spent a few hours trying to tune it up and eventually reached a compromise between operating and not being too slack. The troubleshooting details in the manual suggest that our experience is not unique.
The center tool tray impressed some editors, but the design may be responsible for the bench being dished by 0.016 in. around the center. The dogs come with slip-on plastic tool protectors, but these prevented the dogs from being lowered less than an inch above the bench and must be removed when planing thinner stock. Finally, the shiny wipe-clean finish attracted some editors, but others wondered how it would look after a few years of use with no easy way to renew it. More than any other bench, this is probably one to try before you buy; you'll love it or leave it.