Random-Orbit Palm Sanders
The best are both smooth and aggressive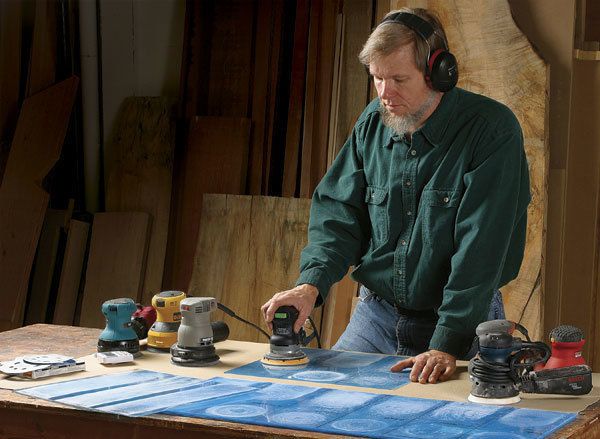 Synopsis: Random-orbit sanders are the power sanding tool of choice for many woodworkers. Their pads swirl around in a not-quite-circular manner, which makes them more aggressive and capable of delivering a more uniform surface than the vibratory sanders they've mainly replaced. Fine Woodworking takes nine 5-in., hook-and-loop base, variable speed random-orbit sanders—the type most commonly found in woodworking shops—out for a spin. We compare them for aggressiveness, comfort, effective dust collection, and quality of finish.
Models tested include: Bosch 1295 DVS; Craftsman 279890; DeWalt D26453; Festool 125 EQ-Plus; Klingspor 1893 DVS; Makita BO5012; Porter-Cable 333VSK; Ridgid R2600; Ryobi RS 281VS.
Sanding is as dull as dirt. I don't find even a Zen satisfaction in it, just tedium followed by finer grits, numb fingers, and dust in what's left of my hair. The best sander for me is the one that most quickly produces a good surface without making my fingers tingly or making me breathe fine dust.
Although woodworkers today hold vibration and dust collection to be crucial, the central question hasn't changed in years: Can a sander produce a good finish?
So that's where I started when I tried out nine 5-in., hook-and-loop base, variablespeed random-orbit sanders—the type most commonly found in woodworking shops. Production shops might use 6-in. sanders, but most hobbyists end up with the lighter, less expensive 5-in. models.
Starting with P100-grit pads and ending with P220-grit, I sanded a sample cherry board with each machine until I was satisfied with the surface. I did no hand-sanding afterward, wanting each sander to show its worst. Nonetheless, once stained (using a pigment stain, which tends to accentuate scratches) and shellacked, the boards were indistinguishable. The difference was that some sanders took longer than others to achieve that result. Also, dust collection and comfort varied widely.
Uniform scratch pattern is key
Although an evenly distributed scratch pattern may seem like a contradiction in terms for "random"-orbit sanders, it means that no particular area is abraded more than any other. Random-orbit sanders create a uniform scratch pattern by combining a spinning motion with an orbital motion that generally distributes the scratches as evenly as possible. Although the various scratch patterns didn't show up on the boards once finish was applied, the sanders with the most uniform patterns tended to be the most aggressive.
Aggression and dust collection
For each test run, I equipped the sanders with fresh P100-grit Norton 3X abrasive pads, which remove wood more quickly than common aluminum-oxide pads.
To figure out which machines removed the most material, I used a digital timer and a scale that was sensitive to 1 gram (28 of which, more or less, equal an ounce). I tested each sander several times on a chunk of poplar cut from the same plank. I weighed the wood, sanded for five minutes, then weighed the wood again. The difference showed how much wood the sander had removed. While testing aggressiveness, I also measured dust collection. To see how well the sanders' integral dust collectors performed, I weighed each dust collector before and after sanding. The difference between how much wood the sander removed and how much dust it collected was floating in the air.
To measure how well each sander accommodated powered dust extraction, I attached the sanders to a Festool vacuum equipped with paper bags. Here, I weighed the wood and a fresh bag before and after sanding for five minutes.
From Fine Woodworking #185
For the full article, download the PDF below:
View PDF