Cordless Screwdrivers Do One Thing Very Well
Bosch PS20 and Ridgid R81030 both perform well in a head-to-head test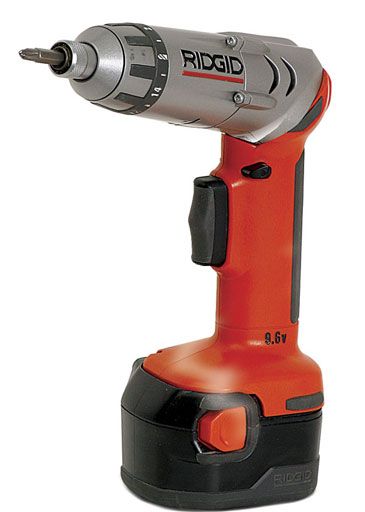 For many woodworkers, a single cordless drill is all they need for drilling and driving screws. But a hefty drill/driver can be overkill. For instance, some pros drive dozens of screws at a time into plywood cabinet joints and get tired of lifting and toting a big drill/driver. And some hobbyists like specialty tools that are designed to do just one thing very well. For these folks, a cordless screwdriver may be just the ticket.
Two new cordless screwdrivers — the 10.8v, lithium-ion-powered, Bosch PS20 and the 9.6v Ridgid R81030 (nickel-cadmium) — are strong enough to drive 3-in.-long screws yet small enough to fit into tight spaces (the Bosch can be tucked into an apron pocket).
We tested both drivers in the Fine Woodworking shop. In a head-to-head comparison, we drove as many 2-1/2-in.-long drywall screws into a 2-1/4-in.-thick slab of medium-density fiberboard (MDF) as each tool could handle. The Ridgid drove an impressive 201 screws on a single charge, compared with a more-than-respectable 167 for the Bosch. The Ridgid also exhibited greater torque, driving a 3/8-in. lag screw farthest into a 4×4.
Both drivers offer two quick-charge batteries (full charge in 30 minutes), and both employ a quick-change chuck that accepts only hex-shank bits. The Bosch tool is much smaller and lighter (1 lb. 12 oz.) and features a nose-mounted light that's helpful inside dark cabinets. The Ridgid is a beefier tool at 3 lb. 2 oz., and it can pivot from a straight stick style to a right-angle handle in a jiffy.
Although both dedicated tools performed well, we think the Bosch is the ideal workshop driver, while the Ridgid is probably the better choice for pros on the job site who may need the extra power and torque to drive a bucket of screws without pilot holes.
The Ridgid sells for $99 at The Home Depot; the Bosch has a street price of $130. For more information, go to www.ridgid.com and www.boschtools.com.
Asa Christiana is the editor; John White is Fine Woodworking's shop manager.
Photos: Rodney Diaz