Exhibit Highlights Evolution of Arts and Crafts
Furniture of William Morris, Frank Lloyd Wright, and others on display in San Francisco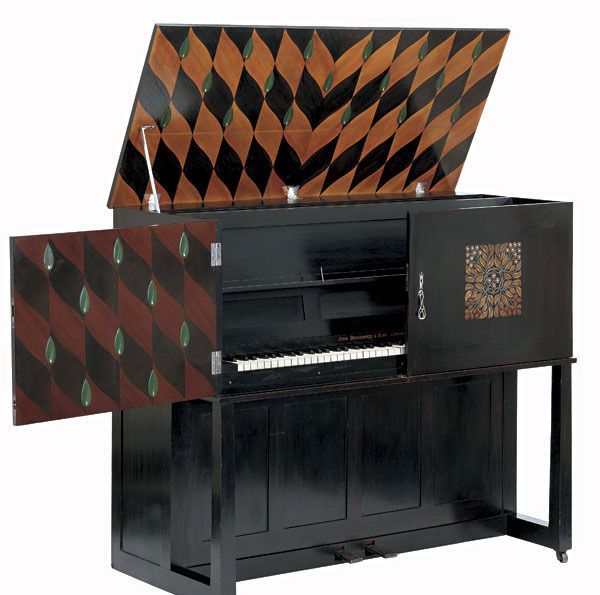 A collection of more than 300 pieces of furniture and artwork from the Arts and Crafts period will go on display next month at the de Young Museum in San Francisco.
The exhibit, titled "International Arts and Crafts," will feature examples of period furniture and objects that illustrate the wide variety of work produced between 1880 and 1945 by leading figures of the time, including English designer William Morris and American architect Frank Lloyd Wright.
In addition to a gallery of furniture and artwork, the exhibit will feature four model rooms decorated in the style of the period. Two rooms will be set up to illustrate England's Arts and Crafts style; one will be typical of an urban home, the other of a rural home. A third room will feature furniture and objects associated with the American Craftsman style. The fourth room will display examples of Japanese Folk Art, a style heavily influenced by Arts and Crafts.
Featured designers whose work will be on display include Charles Rennie Mackintosh, Gustav Stickley, Charles and Henry Greene, and a few lesser-known Russian designers.
Craftsmanship and simplicity
The Arts and Crafts movement originated in England in the 1880s as a response to the onset of mass production and heavy ornamentation made popular by the high-style Victorian era. Named after England's Arts and Crafts Exhibition Society, the overall goal of the movement was to bring a focus back to craftsmanship and simplicity. It was adopted by designers, furniture makers, and architects, as well as artists working in glass, ceramics, metal, and fiber arts.
As the style evolved in England, it quickly spread to other European countries, the United States, and Japan. In the United States, Arts and Crafts influences are apparent in the bungalow-style homes throughout California and the Midwest. The style also had a strong presence in upstate New York, which is still home to the thriving Roycroft artist community and the Stickley furniture factory.
The exhibit, organized by the Victoria and Albert Museum in London, will be on display from March 18, 2006, through June 18, 2006. The de Young Museum is located in San Francisco's Golden Gate Park. For more information, visit the de Young online at www.thinker.org or call 415-750-3614.
February 14, 2006