Letter From the Editor
A computer in every woodshop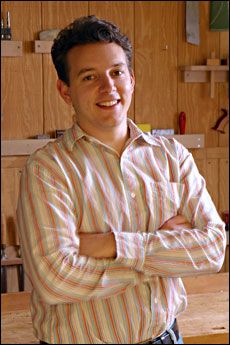 Early in my journalism career I was a reporter covering the computer software industry (and a closet woodworker), and much of what I wrote about concerned Bill Gates and his computer operating-system empire, Windows.
Gates's early declaration was to put "a computer in every home and on every desktop." Monopolies aside, his vision has nearly been realized, and in some cases surpassed. We're on our way to having a computer in every cell phone, television set, and even your alarm clock. So why not the woodshop?
Solitary, but connected
Woodworking is inherently a solitary pursuit. We toil away in our shops with only our tools and lumber to keep us company. And most of us like it that way; there's no one to dull our blades or spoil our well-tuned machinery.
We're also a curious bunch, and we get much joy out of knowing what other people are building and how they're building it. That was the premise behind Fine Woodworking magazine, when its founder, Paul Roman, first imagined the concept 30 years ago. The magazine removed physical boundaries and created a venue for this solitary bunch to get out of their shops and into the shops of other woodworkers.
The Internet has added a new dimension: In addition to location, it has removed time from the equation. In 1997, The Taunton Press opened the doors to our Knots discussion forum, and now woodworkers in New Zealand can immediately get an answer to a question from a woodworker in Oregon.
Introducing FineWoodworkingNetwork.com
FineWoodworkingNetwork.com is the next phase in this evolution. With this new endeavor, we've assembled 30 years of woodworking knowledge in one Web site, and baked into it a vibrant community where information can be shared, consumed, and created in real time. Whether you are new to woodworking or an expert, this site has something to offer.
The Knots forum has been expanded from 17 subject areas to more than 40 to include fundamental subjects as well as expert ones. We've created an expert forum where hobbyists can communicate with professionals in various areas of expertise. The Tool Guide, which brings together hundreds of tool reviews by professional woodworkers, allows users to publish their own reviews and ratings. And The Gallery, which features more than 1,000 images of furniture, wood turnings, and other woodwork, is a platform to share design ideas and enjoy the work of our peers. 
We've also taken advantage of what might be the Internet's greatest attribute: its ability to deliver information with video on demand. Some woodworking techniques are easier learned when you can see them with your own eyes. And we have more than 100 how-to videos available on FineWoodworkingNetwork.com, with new videos planned for release every week.
See you in cyberspace
I invite you to click around FineWoodworkingNetwork.com and see all that it has to offer. All of the links in the top navigation lead to pages where we promote highlighted articles and videos (we call these channel homepages). You can also browse more than 130 category pages, from "Assembly and Glue" to "Workshop Design," to find articles, videos, and tips on just about any topic. I expect it may just convince you to clear up some space in your workshop for a computer with an Internet connection.
Matt Berger is managing editor of FineWoodworkingNetwork.com.