Bosch - Orbital Detail Sander 1294VS
Bosch's detail sander comes as a kit with various sanding pads of different grits, profiles, and attachments.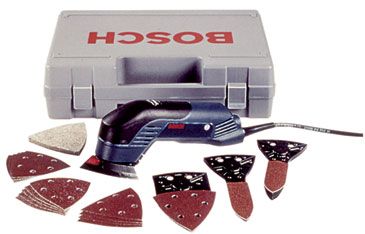 There's a lot to like about the Bosch 1294VS detail sander. It's light, powerful, comfortable to hold, and produces only minor vibration. This sander is a true orbital, not a sander that pivots in an arc. The tool has good overall performance doing the job detail sanders were designed for—getting into tight spots.
The sander has a triangular-shaped shoe that can be mounted three different ways. When the front corner of the sandpaper wears, the sanding shoe can be rotated to expose a fresh corner. Sandpaper is held via a hook-and-loop system.
I also like the probe-shaped sanding attachments Bosch calls pad extenders. Designed to reach into otherwise inaccessible crevices, two extenders are included—one flat and one oval-shaped.
The variable speed is a handy feature when the machine is used for tasks better suited to slower speeds, such as polishing.
Having gone to all the trouble to build in dust collection, you'd think Bosch would supply a collection bag of some kind, but a bag to fit the sander is not available. That's because, according to Bosch, the unit can't move enough air by itself to collect dust. It's best used with a shop vacuum. But it can be run without one as well; just wear a dust mask.
The tool isn't cheap, but overall, it seems like a solid machine.