Lie-Nielsen - No. 164 Low Angle Smoothing Plane
This plane is patterned after Stanley's No. 164, but makes a number of improvements over the original. It features a 3/16-in.-thick A2-steel blade, cherry handles, and a body cast from ductile iron.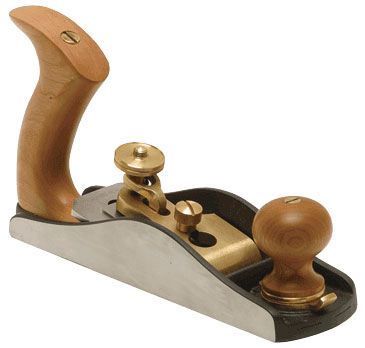 Lie-Nielsen's low-angle smoother is patterned after Stanley's No. 164, which was produced for a relatively short period, and consequently, originals are rare. Hats off to Lie-Nielsen for taking a great design and making it even better.
The plane is the same size as a No. 4 bench plane. It's cast from ductile iron and fitted with familiar cherry handles. The stout 3/16-in.-thick A2-steel blade is mounted bevel up on a large, precisely milled bed. The mouth can be adjusted easily by loosening the front knob and shifting the cam lever left or right.
The plane's compact size doesn't allow for a depth adjuster behind the blade. As a result, a very unconventional design was adopted where the adjuster sits atop the lever cap. This works well enough, and it puts the knob right at your fingertips, though it does make blade removal slightly more cumbersome. Lateral adjustments are made by manually shifting the blade back and forth.
Out of the box, this plane was up to the stringent standards Lie-Nielsen has established. Everything was in perfect order and ready to go after a couple of minutes of honing the blade.
With its blade sharpened at 25°, the Lie-Nielsen excelled at end-grain and cross-grain tasks. With a blade sharpened at 38°, it became a high-angle smoother capable of handling the most challenging woods.