Incra - Miter Gauge 1000
Incra's basic 1000 series miter gauge features a protractor-head design, with 41 positive angle stops.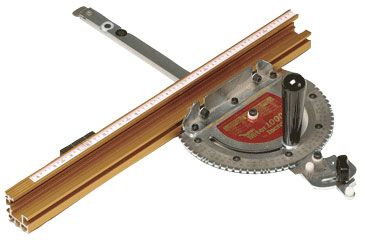 The Incra miter gauges are a protractor-head design, but they use a toothed rack for adjustment, creating a greater number of positive stops. All of the Incra products slid very smoothly and had useful features. The Miter 1000 is a good value, with its easily adjustable guide bar and good fence.
The Miter 1000 is Incra's basic miter gauge and one of the least expensive on the market. The markings on the protractor head were clear, and the head was quick and precise to adjust. Once the fence's mounting bracket was set at 90°, the remaining adjustments were accurate. The fence was perfectly straight but slightly out of square with the table, even at only 1-1/2 in. tall.
It uses nylon split washers to adjust for play in the miter slot. Easy to adjust, the washers allowed for smooth movement.
Aside from the initial adjustment of the fence-mounting bracket, the only shortcomings of the Miter 1000 were its small stop—which protruded only 1/4 in. from the fence, leaving it unsuited for stacked cutting or pieces with angled ends—and the mini T-slot system for attaching an auxiliary fence. The size of the T-slots and their low position on the fence resulted in a wobbly auxiliary fence if it was more than a few inches high. However, at $90, the Miter 1000 is an excellent value, with 41 positive miter settings and accurate sliding action.
After this test was completed, Incra debuted a special editions of the 1000 miter gauge, the 1000SE, which offers a longer, telescoping fence, and includes the two-armed flip stop found on the 3000 model.