General - Midsize Tablesaw 50-185M1
General's midsize tablesaw features a left-tilting 10-in. blade and a cast-iron table with matching extension wings.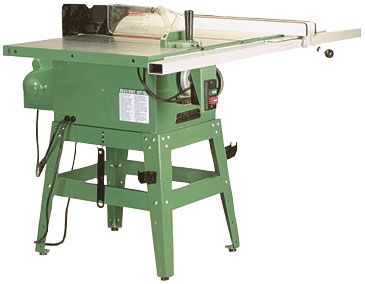 The first big workshop purchase for most people is a tablesaw. Priced and sized between the large cabinet saws and small benchtop saws, a contractor-style saw is the logical choice for many. I surveyed several brands on the market, checking for flatness, runout, and whether the factory settings of the trunnions and motors were parallel to the miter-gauge slots in the tops. I also ripped and crosscut 8/4 white oak and hard maple to test the machines under load. All of the saws I tested performed well.
The base of the General offers storage area for the miter gauge, rip fence, and wrenches—a nice touch. Ball detents in the miter-gauge bar ensure an accurate fit. With its left-tilting blade, powerful 2-hp motor, sturdy fence, and reasonable price, I consider this saw to be the best buy of the bunch.