Freud Inc. - Jigsaw FJ85
Freud's model No. FJ85 jigsaw features a variable-speed motor and cuts straight or with an orbital-cutting motion.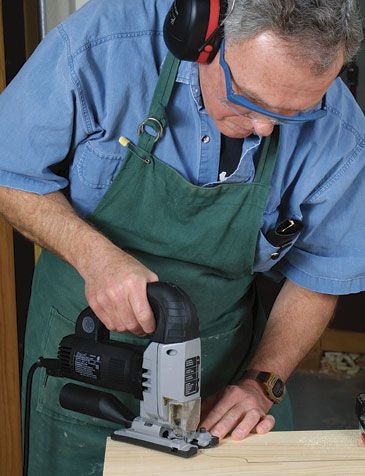 The new Freud FJ85 jigsaw has many of the features I've come to expect in a portable jigsaw—a solid, well-made base, a powerful 6-amp motor, variable speed (from 500 to 3,000 strokes per minute) and a blade that can be set to cut either straight up and down or to any of three orbital stroke patterns. It also has a couple of clever features you aren't going to find on other jigsaws: a super-simple quick-change blade lock and electronic constant-speed control.
The blade-lock mechanism accepts both tang-shank (Bosch-type) and universal-shank blades. And you won't need a screwdriver or hex-key wrench to change a blade. To remove a blade, it's just a matter of rotating a lever on the arbor of the saw through a 90° arc. With the lever still rotated, slip a new blade into the slot and release the lever to clamp the blade in place. It's remarkably simple. And it works flawlessly.
The constant-speed control maintains the cutting speed of the saw. So, for example, when the blade runs into a knot, the saw automatically gooses up the power to keep the blade from slowing down.
To give the speed control a good test, I sawed through softwood, hardwood and aluminum in a single cut. And from start to finish, I wasn't able to detect any change in the motor speed, even though, as expected, the forward progress slowed while cutting the aluminum.
The saw comes with a dust-pickup attachment. And to prevent the base of the jigsaw from scratching a workpiece, there's a protective plastic shoe included that simply snaps over the base.
A clear plastic blade guard is also provided. In use, however, the guard reflects light and collects dust, making it difficult to see the cut line.
But my chief complaint with this jigsaw is the handle. In my average-sized hands, the deep, flat shape was uncomfortable. And I didn't like the feel of the molded ridges on the grip.
Overall, though, this jigsaw has many good features. I especially like the blade lock and the sturdy base. It comes with attachment for dust collection.