Veritas - Fore Plane No. 6
This No. 6 fore plane from Veritas features a single knob to adjust the vertical and lateral placement of the blade.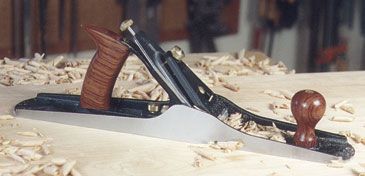 A new No. 6 fore plane from Veritas is designed for truing and smoothing large surfaces like panels, tabletops, and workbench tops. Its long sole is perfect for large surfaces because it will not follow the hills and valleys that a shorter plane would. It also is a great plane for jointing board edges prior to glue-up.
The body of the No. 6 fore plane is made from cast ductile iron, a more durable and stable material than standard gray iron. It is 18 in. long and weighs about 6-3/4 lb. The blade, made from A2 steel, is 2-3/8 in. wide and 1/8 in. thick.
The frog assembly is unique in that it extends through the body of the plane to the sole, so the blade is supported all the way to the bevel. The frog is adjustable you can close the mouth for fine, tear-free cuts or open it up for coarse, aggressive stock removal. The adjustments are easy and, unlike many standard planes, don't require the blade assembly or lever cap to be removed.
The blade-adjustment mechanism is simple. Both vertical and lateral adjustments are made by a single knob. Setscrews in the body of the plane ensure that the lateral adjustment is precise and that the blade is centered near its cutting edge.
The plane was just about ready to go right out of the box. All of its castings were machined clean and true and required no further attention. After I spent a few minutes honing the blade and dressing the chipbreaker, the plane was ready to use.
I used the plane to prepare a 20-in. by 40-in. cherry panel, an ideal task for a fore plane. Also, I jointed all of the board's edges to make them straight and true prior to glue-up. The long sole of the Veritas did its job, effectively leveling high and low spots.
After gluing up the panel, I used the plane to surface and smooth both faces. Working with the grain, I was able to plane the panel smooth and flat. I was impressed with the tool's solid feel. This translated into smooth cuts, with minimal torn grain.
For those who enjoy preparing stock with hand tools, the Veritas No. 6 fore plane would be a welcome addition to the workshop. It's well designed, well made, and a solid performer.